30 Diys To Do With Your Kids
30 Diys To Do With Your Kids
Come summer and parents are faced the unimaginable challenge, of how to keep their kids engaged in gainful activities. It is not always possible to be outdoors. So, this blog comes your way for those summer vacations where at times there are boring afternoons that never seem to end. It has an interesting mixed bag of all things interesting and fun to do easy DIY projects. From canvas painting to mixed media on canvas, it's got something for everyone. So gather some of your art and craft supplies and make summer vacays one to remember. Stay cool and happy creating!
1. Tangram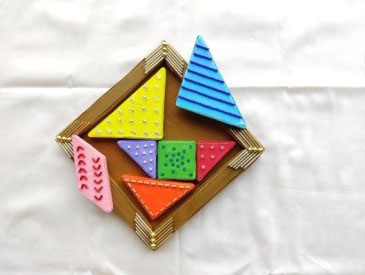 An interesting DIY that will keep you engrossed and gainfully. The tangram is a dissection puzzle consisting of seven flat polygons, called tans, which are put together to form shapes. A tangram that's created with fabric and put together using Fevicryl Fabric Glue. You can make your tangram with fabrics of your choice, and personalize the whole thing. A lovely activity that you can teach to so many more.
2. Cute Sloth on canvas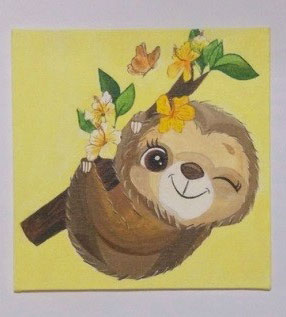 Beat the heat this summer by making something that's cute and full of fun! Like we have. A cute sloth on canvas using Fevicryl Acrylic Colours. A good DIY that can keep you indoors and yet occupied creatively. This DIY can be an interesting way to revamp your bedroom with colourful canvases painted by you.

3. Canvas with patchwork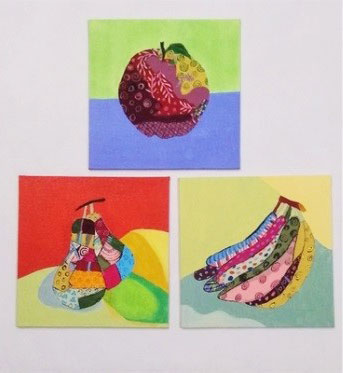 This was so much fun doing! A random thought and see how well the whole canvas has come together. Pieces of fabric mapped together creatively. Do try this fun DIY where you can make it thematic to your taste and customize it too. A perfect indoor activity where the things required are bare minimum with results that will get you compliments for sure. So go on and give it a go.
4. Bygone Era – Canvas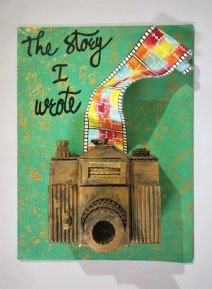 Nostalgia is the inspiration for this artwork that we have for you. A DIY that would take you down memory lane when camera and reels were the order of the day. Moments were captured with a camera and then the procedure of developing the reels etc happened. Here we have a mixed media project where we have innovatively used corrugated sheets and fabric along with a whole array of Fevicryl range of products, to bring this concept together. A good wall display for your recreational space.
5. Pop art on walls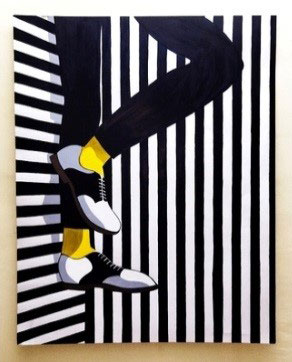 Beat boredom and how? Isn't this wall art simply wow! This summer give your bedroom a new and renewed look, like we have with the lively pop art wall painting. It's whacky and so much fun to do. We have hardly used few shades and it's the concept that has come to life so brilliantly. So go on and give that wall the much needed splash of colour.
6. Fairy tale on my wall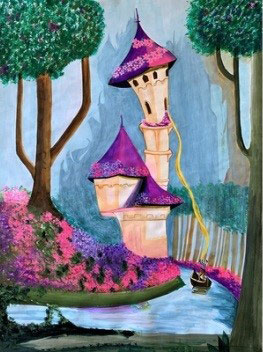 Fairy tales are our childhood, the make belief fantasy world that always mesmerized us. A world that was full of magic and so much happiness. This summer let's revive those memories and have it engulfed around us for always! Well this wall art with a fairy tale theme is just that. Beautifully painted on walls of your bedroom will make you enter your own fairy worls each time, would that not be fun?
7. Bird on the branch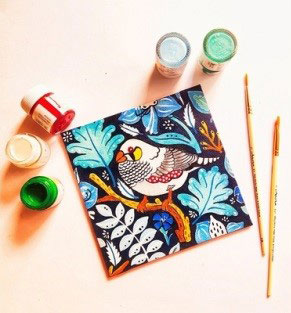 Little canvases are so versatile, as you can see how beautifully this one has been made. Inspired by nature and things beautiful comes this miniature canvas that's painted using Fevicryl Acrylic Colours. Dot your home with these little painted canvases done by you and see how each nook gets character and meaning to it. Put in your personal touches of concepts and shades to make it your personalized art piece. Let's not forget the fun of painting each one, playing with colours and whole experience.

8. Potli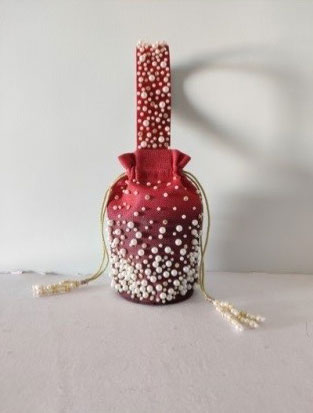 An interesting idea is what we shown here. It's a potli bag that have been embellished with beads using Fevicryl Fabric Glue. So the sky is the limit here, for you to chose the colours and the embellishments that you can do too, to make not one potli but several. It would be just so stylish to flaunt and have it on you as an accessory for weddings and each ceremony like a sangeet or mehendi, isn't it?
9. Canvas with paper lanterns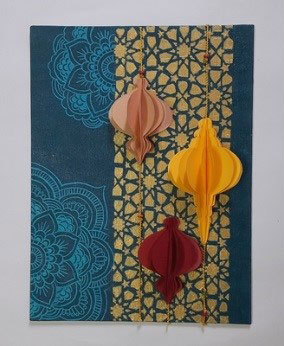 A DIY that not only looks attractive and you will have so much fun doing. It has many facets to it, painting a jali backdrop with a crafty twist of paper lanterns amidst it. So you have both art and craft in this fun DIY. Inspired by the Mughal era, comes this artwork on canvas that is so unique that you would want to give a try and maybe gift these to close family members. Something that you can gather together in a group as a small activity, which would double the fun of it for sure.

10. Trinket holders


Vacations are times when spring cleaning is in full bloom! Literally, as we see things strewn around in a haphazard manner, that needs our attention. So just for these very moments, we have made cleaning a fun and creative experience. These are pretty trinket holders for all your tiny little trinkets that will now have a beautiful place. These are made with Fevicryl Mouldit and then prettily doodled and they look stunning. Now you have no excuse to keep things in order without a mess.
11. Positivitea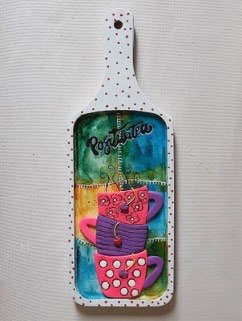 Make the best of your vacations to be as creative as you can. A state of mind that relaxes you and brings out the best in you. Hence this Positivitea DIY that will surely get you all engrossed and engaged creatively. With tea cups made with little slabs of Mouldit , which are textured and then painted in stunning shades of Fevicryl Acrylic Colours, this activity will make you feel proud of what you have landed up creating.

12. Decorative Jewellery box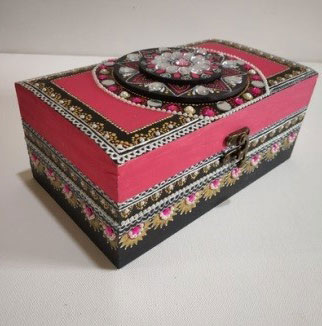 This DIY can be customized to your taste and choice, here is how we went about making it. You can revamp an old box too to make this. Embellish it exotically with beads and sequins and make look just so stunning that it befits your precious jewellery pieces. A classic one that can take it's place on your dressing table and an interesting DIY to beat the boredom of vacations at times.
13. Heart bookmarks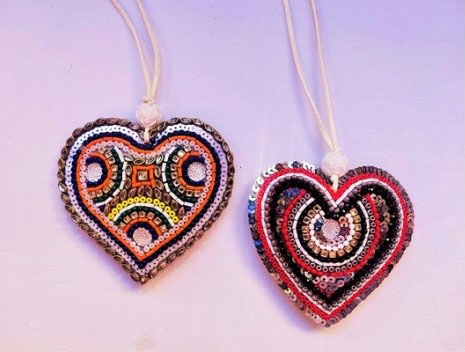 This is so much fun to make, we have made hearts you can choose any shape or concept that you wish. Made with felt cloth and then beautifully embellished with sequins and beads makes these all sparkly and glittery as bookmarks. Decide to gift these kinds of bookmarks to a book lover and you will have a friend for life for sure. So go on it takes so little to make friends for life!

14. Gnomes keychains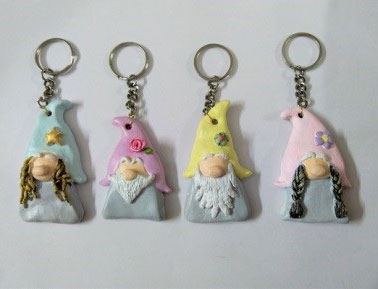 Handcraft these cute gnome keychains using Mouldit and paint them in desired shades and hues. They make very cute handy keychains that you can make and gift to friends and family members, as there is nothing more valued than handmade gifts. So this summer vacation get going and impress people around by getting creative and maybe inspiring members around too!
15. Traditional dome ring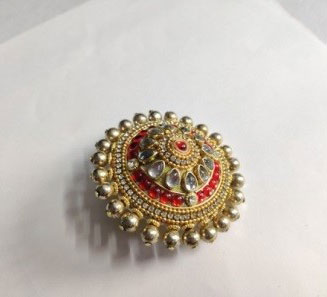 Royal and elegant, and we are sure you too want to know how we made this traditional kundan ring. This DIY will inspire you to make earrings in a similar manner. So for the rinf=g we used basic elements like buckram, metallic shades of Fevicryl colours and tastefully chosen embellishments to give that regal look. Made pendants too with this same step by step recipe and keep people wondering just how you made it, keep them guessing.

16. Studded chunky purse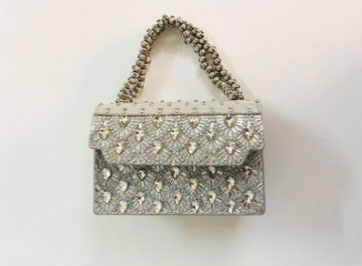 Transform / repurpose an old purse into a stunning wedding accessory like we have. Using tasteful and colour co ordinated embellishments that we have stuck with the ever versatile Fevicryl Fabric Glue. An apt accessory that you can have on you for special occasions such as weddings and cocktails parties.

17. Coconut shell roosters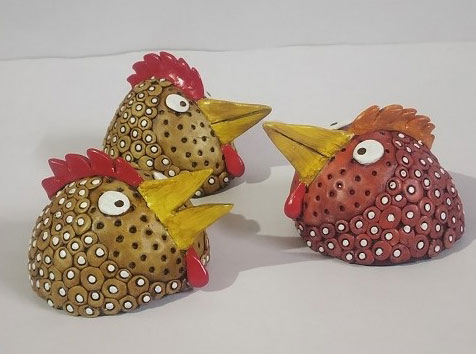 A great DIY to bust boredom during vacations. Collect empty coconut shells and just get going. Plastered with a thin layer of Mouldit to give interesting patterns and textures to these cute little roosters is so much fun. Painting them with Fevicryl Acrylic Colours of your choice is what makes these your personalized pieces of creation. Place these as a compilation on your showcase and see the surprise on the faces of people when they see it, it is anybody's guess what it has been actually built up on!

18. Spotted whale on a wall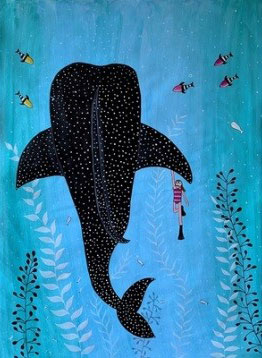 Come vacations and we are searching for something or the other interesting to do, isn't it? Here is something that will surely capture you and engross you in creativity. Why not make a feature wall art in your bedroom? A whale? A spotted whale? Seaworld that has always intrigued one and all. Here is your chance to make the most of your spare time to create something memorable that you and others would be proud of.
19. XOXO Clip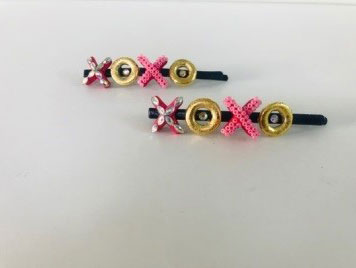 A time to gather all your hair clips, no matter what shape or sixe they are. Because we are going to embellish each one with starry and glitzy sequins and stones and make then the envy of so many. Better than shop bought hair clips these are going to be stunning and win you compliments each time to wear them , so get ready and XOXO your clips with Fevicryl Fabric Glue.

20. Sleeping Fairy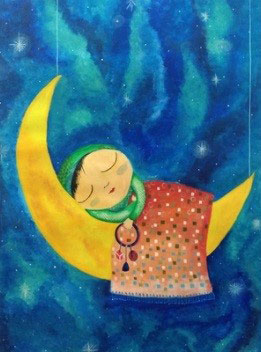 Growing up in a world of fantasy, with elves and princesses, tiaras and homes in the clouds have always fascinated every little child. That feeling can be recreated all over again, this time on your walls with all your creativity and love for fairies and their magical stories. The versatile Fevicryl Acrylic Colours have that very magic to give you shades and combinations to paint that very enigmatic perfect fairy art on your walls. So each time you sleep you immerse yourself in a world of beautiful dreams and a perfect fairyland. Make this you summer project and have loads of fun doing it.
21. Kite Latkans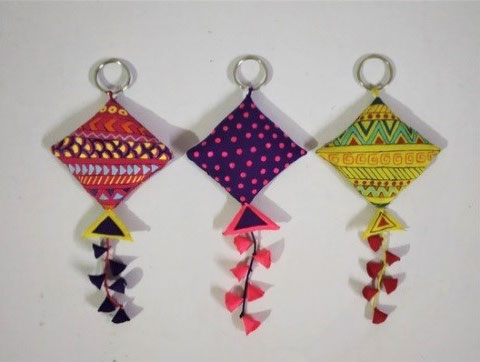 Such cute kite latkans made with fabric, no sewing just Fabric Glue. Beautifully decorated using Fevicryl Fabric Colours and with sponge in between for shape and dimension. A great and interesting DIY for those boring afternoons during summer vacays. So make these and surprise your family to show them how gainfully and creatively you can keep yourselves occupied.
22. Succulents on my wall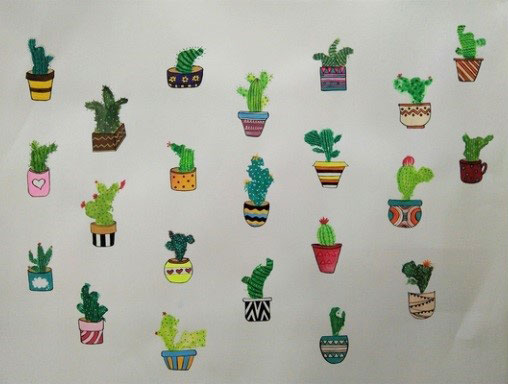 This wall art DIY will amaze you pleasantly. Give your children's bedroom this makeover by involving them for most of the part, well that's the trick to make them to do something creative during their vacays! The succulent base shapes have been got by halving a ginger, you get random shapes right? Dip them in paint and dab them aesthetically spacing each one well to make the shapes. Then colour them with Fevicryl Acrylic Colours in as colour a manner as you can get. There you have cute little succulents that look like wallpaper on your walls.
23. Masking tape technique on wall


Walls seem messed up with stains and scratches, well yes painting is the option, but who is going to do it? Not any professional painter, but the artist within you kids! Yes, that's right. Trust us this simple and sure shot DIY never fails. Masking the wall in random geometrical shapes with tape and then splashes of Fevicryl Acrylic Colours. After drying rip off the masking tape and what you get is this stunning wall art. Great DIY isn't it for all those boring hours of unmeaningful banters, get your kids to give their bedroom walls this amazing makeover.
24. Fairy House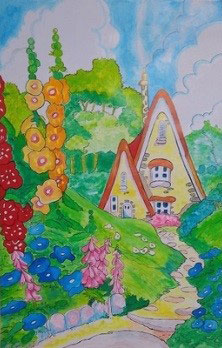 No posters, no stickers this DIY of a fairy house on a wall is pure painting with Fevicryl Acrylic Colours. It is fun and something that your kids can do as a fun project during their summer vacations with a lot of fun. Let them imagine their own fairy world with all its fantasies and let them express it as their very own wall art.

25. Wild flowers on my canvas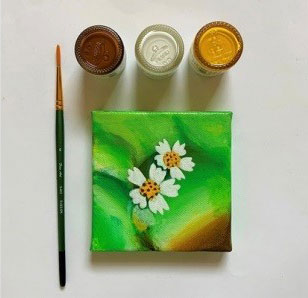 These little canvases are so versatile that one just has that urge to create something as each of us has a creative bone within us. So, this time around, we have painted wildflowers with colours are that closest to nature. A painting that is simple, just for those stress buster days and especially during vacays when the days are long, weary and boring, this is what you can do and spike up your day.

26. Rooster on canvas


Painting can be so therapeutic and relaxing. When the days are aimless at times, that is the time to grab your paints and brushes and do something creative and artistic to drive those blues away. This is something so basic that we have done, on one of the miniature canvases. A rooster, but painted in the most exotic way. We have chosen shades from the Fevicryl Acrylic Colour's palette that are bright and bold and are those "happy colours". Once it's ready it gave us immense satisfaction at what we created, now we cannot stop at just one !

27. Door hanger for Fashionista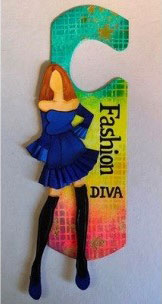 Make your own personalized door hanger for your bedroom door. Make this one of your fun projects that you did during your summer vacations. Make it flashy, with confidence, make a bold statement of who you are, and just go all out to make it. Let your personality reflect on it so when there a knock on your door, they know it's a DIVA whose inside!
28. Rocking horse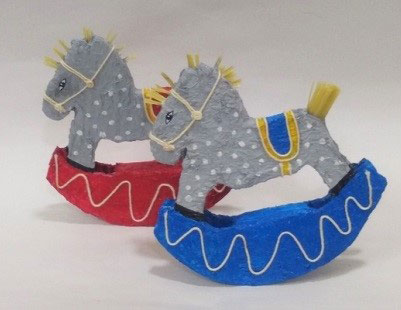 A perfect DIY that is made with best out of waste materials. This rocking horse is something we all have grown up seeing and playing with as kids. Now it's time to kind of recreate those memories by making it as a DIY with simple materials. We've used corrugated sheets from cartons, tissue paper and Fevicryl Acrylic Colours. Making them in pairs and placing it at your working desk would always remind you that creativity also makes the mind click along with being a stress buster.

29. Flower power canvases

A cool mixed media DIY that you can make in a series like we have, so that it looks like a personalized collection by you. It's got Mouldit, with which the pretty petals have been made, then with the right shades of pastels that have been made using Fevicryl Acrylic Colours, we've given that English bloom touch to it. The backgrounds too have pastels that make it perfect for your study space or creative nook.

30. Halloween Coasters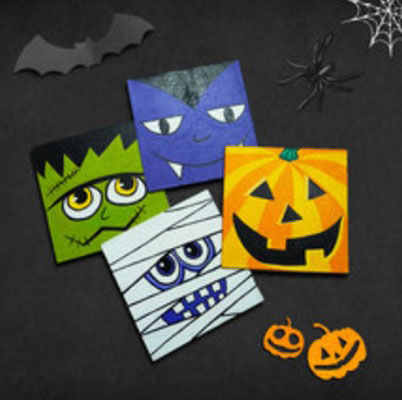 It isn't Halloween but still these coasters will be so much fun painting!. Take out your Fevicryl kit and pour in loads of creativity and imagination to make it a family fun activity.