Festivals With Fevicryl Fabric Glue
Festivals With Fevicryl Fabric Glue
Festivals are a time when we are constantly looking for ideas to bring in positivity and joy, in and around the house. It's a time when we spring clean too, and are on verge of discarding numerous things. A good way to enhance your décor and festivities is to adopt the DIY way. Make use of redundant things and revamp them making them look as good as new.
It's most convenient, as you get what you want, just the way you desire it to be. Here are few interesting DIYs we made for festive occasions that are easy to do, and with just a bit of creativity one's space can be transformed. Our hero product Fevicryl Fabric Glue comes to our rescue as usual, making each DIY non messy, quick and hassle free.
So, here's to fun and festive times, choose your DIY and happy creating!
1. Peacock Jhoola for Ganesha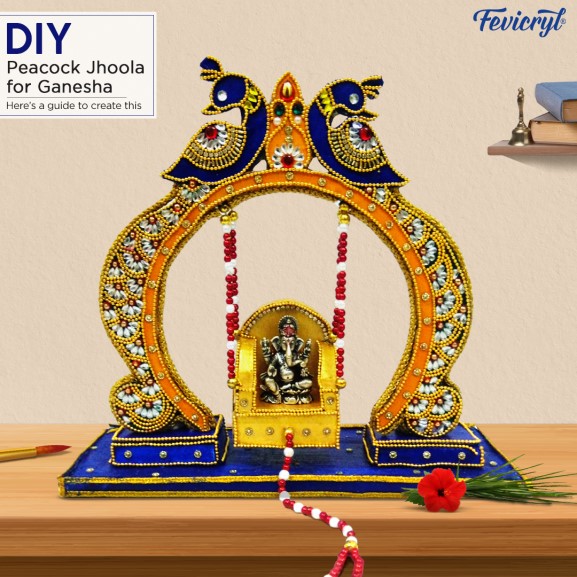 An amazing festive DIY with Fevicryl Fabric Glue is this exotic peacock inspired jhoola for Lord Ganesha. The glitz and bling add that glamour and zest that all festivals spell. So give this a try this festive season and see how easy homemade DIYs can be.
2. Chanapattam Parrot Earrings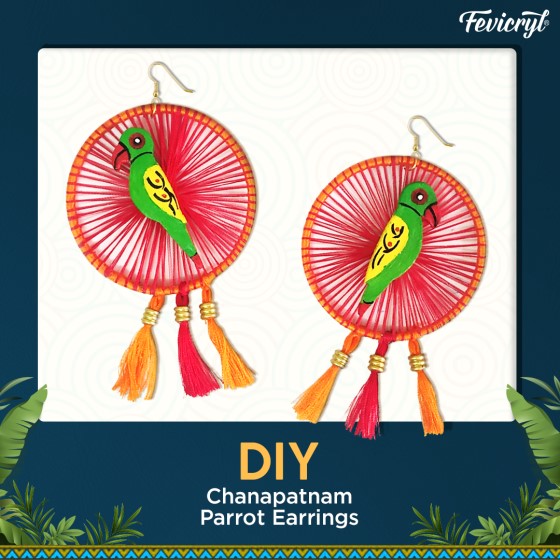 This festive season make it all the more special by adorning something that you have made. We have made it easy for you with these, Chanapatam Parrot earrings that are so very attractive and customized for the occasion. You can also add a pendant the same way you make the earrings and you are ready to go.
3. Floral Sling Bag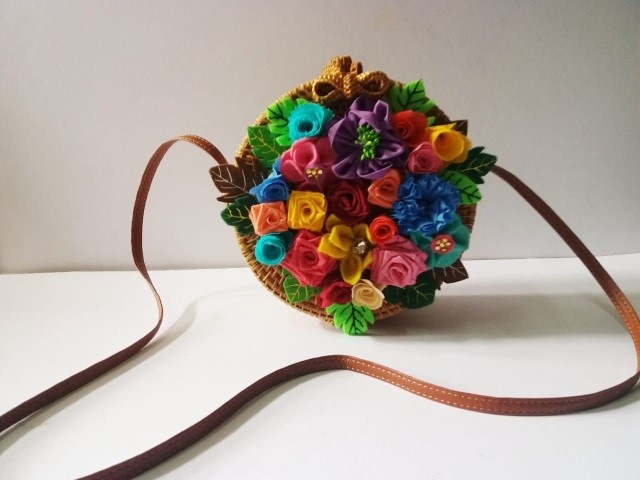 This is one DIY that will gladden your heart. Make this as your style statement this festive season or just for a special occasion and feel the satisfaction of it all being made at home. Pretty florals all clustered and arranged aptly using Fevicryl Fabric Glue, to make it that unique piece of accessory that you can have on yourself and flaunt with pride.
4. Beaded Regal Backdrop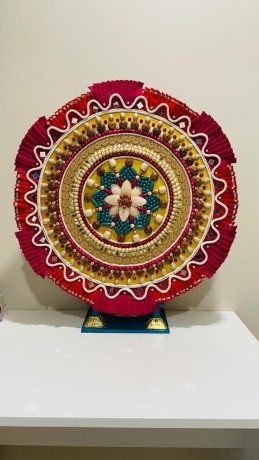 What better way than this to bring in this festive season? Made in shades that are rich and every bit festive and attractive combinations of beads have been stuck using Fevicryl Fabric Glue, that has brought the entire creation to life so prettily in this backdrop.
5. Kutchi Pendant & Earrings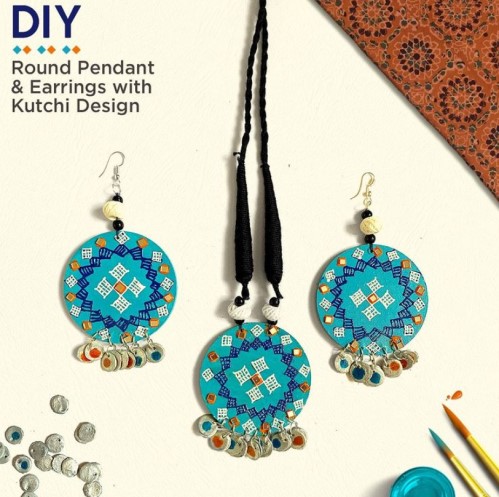 Stunning accessories made to perfection using Fevicryl Mouldit and Fevicryl Fabric Glue. Inspired from the enriched region of Kutch in Gujarat come these earrings and pendant that can match your festive outfit this festive season. Customise them in shapes and sizes that you prefer and there you go; you have your own personalised accessory aptly made for yourself.
6. MDF Peacock Design Rangoli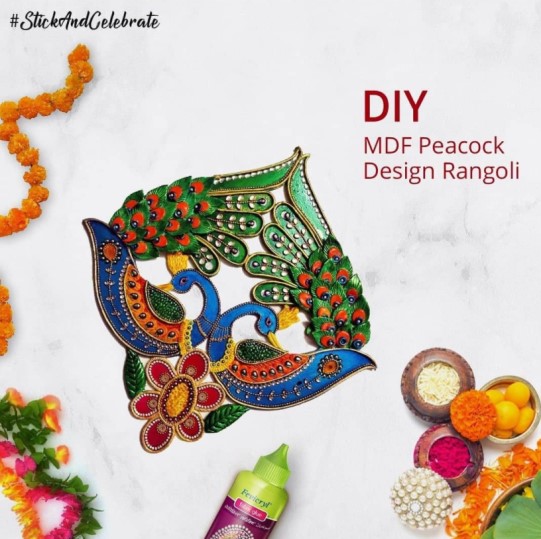 It's colourful and full of bling, exactly what festivals bring forth. These pretty MDF rangolis are a pleasure to make, with all the little colourful beads and sequins that gladden one's heart. All come together so beautifully and hassle free using Fevicryl Fabri Glue.
7. Rangoli Design with Corrugated Sheets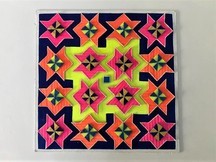 Made with things that are readily available, is this simple and engrossing rangoli that you can make for festivals and your Pooja space. Merely, all brought together beautifully making it look so stunning towards the end.
8. Lord Ganesha with glass beads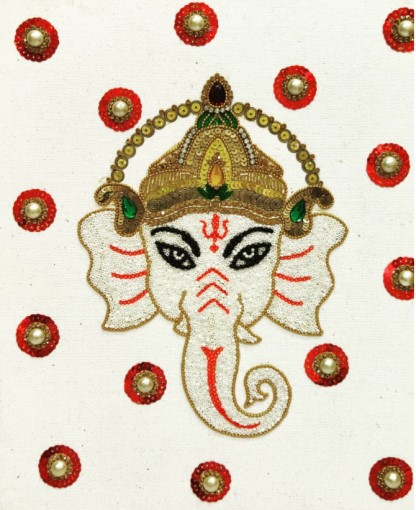 Bring in your festivities with this simple DIY, that has Lord Ganesha made with glass beads and sequins stuck using Fevicryl Fabric Glue. A great housewarming gift too. Make it on cloth and frame it or directly make it on canvas, the choice is yours.
9. Jute Fabric Toran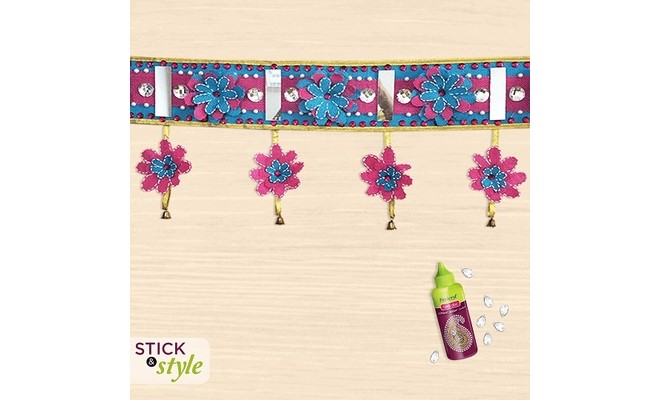 Make your own festive torans with ideas of your own and patterns and designs that suit your home décor style. Here is jute fabric toran that we have made and given it a traditional look too. Flowers that are stuck on colourful jute fabric using Fabric Glue, and then embellished and enhanced for a festive look.
10. Pot with Bandhani effect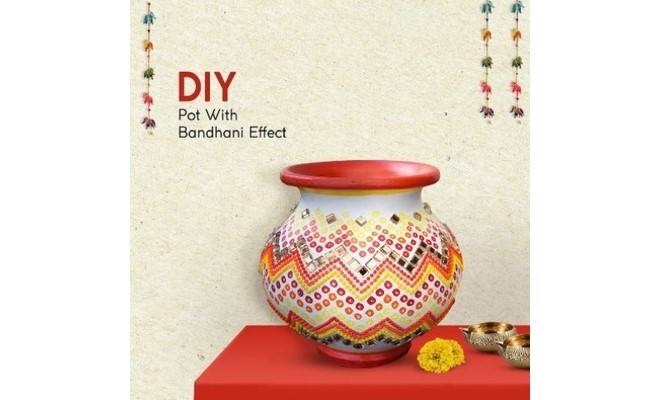 A garba pot made especially for Navratri and given the traditional bandhani look using mirrors that have been stuck beautifully using Fabric Glue and Acrylic Colours. Garba pots are seen in various forms and decorations, we thought why not a bandhani inspiration? And look at the outcome, it's every bit that is apt for the festive mood.
11. Elephant Diya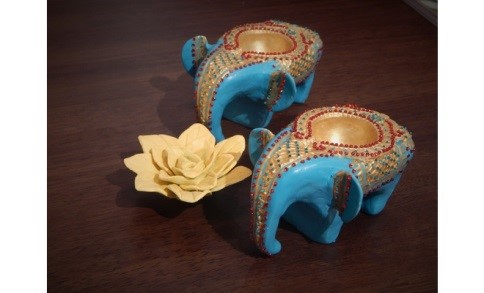 Such a cute diya that you can make for Diwali. Hand moulded perfectly with Fevicryl Mouldit and then painted and embellished so prettily with tiny and delicate stones using Fabric Glue. You can make them larger or even as miniatures to fit in your diyas.
12. Festive Peacock Dupatta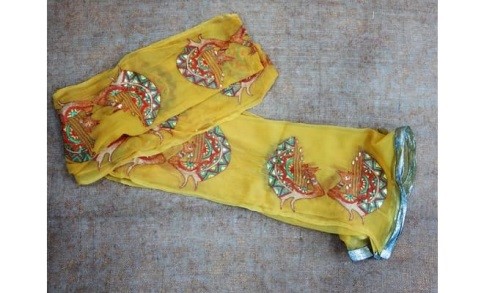 What a pretty and festive looking dupatta, that has exotic peacocks painted on it using Fevicryl Fabric Colours and futher enhanced with Fabric Glue. Pair it with a plain kurta and see how the entire look stands out. Make such motifs on simple and plain kurtis too and see the huge difference it makes.

13. Garba Decoration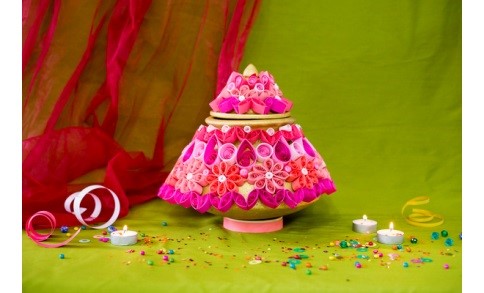 Traditional yet trendy is what this garba pot is. We have very delicately decorated the garba with quilled flowers using Fabric Glue. Something that is so unique and distinct. Make your own DIY garba with quilling strips that are your favourite.

14. Neon Lamp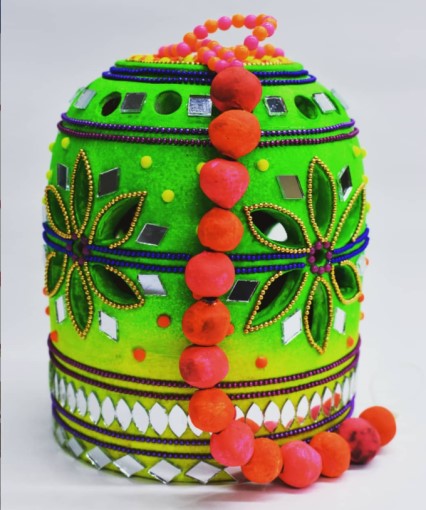 Let's bring in light and hope with lamps and lights this festive season. We have here a stunning simple terracotta lamp that has been painted in Fevicryl Neon Acrylic Colours and then accentuated with mirrors and beads using Fevicryl Fabric Glue for that final touch and elegance. Make a couple of these attractive lamps of hope and bring in the joy and fervour of all festivals to come.
15. Ganesha Wall Décor (Home Décor)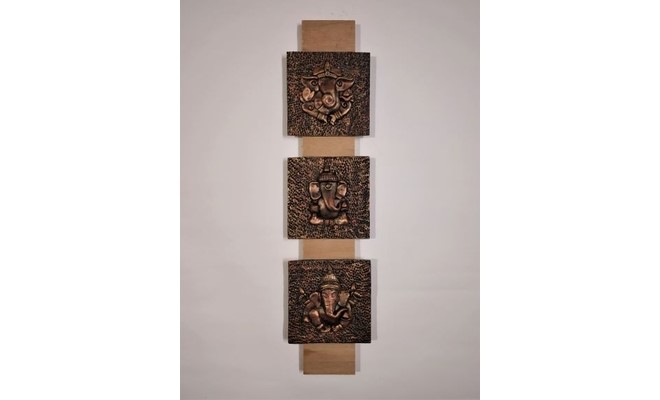 Make your own wall décor that too a festive one this season. Here is a lovely Ganesha wall décor made in its entirety using Fevicryl Mouldit and painted in a way to give a metallic look. It's finally mounted onto a wooden plank using Fabric Glue, and it's one of those DIY / handmade pieces that you will be so proud of.


16. Ganesha on wooden box (Home Décor)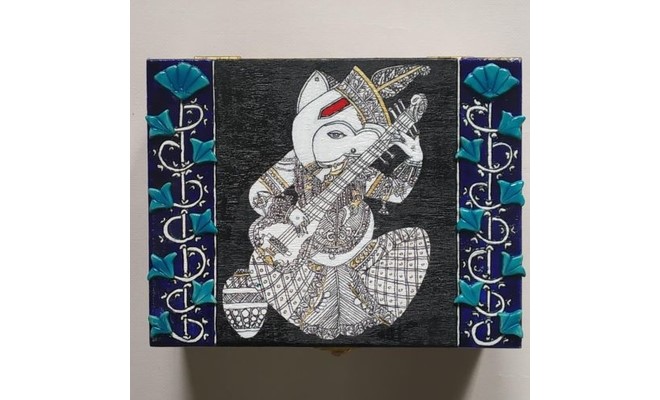 Festivals are all about gifting and receiving gifts! Instead of running helter-skelter in crowded shops, why not customise and make your own boxes for gifts and gifting. We have just that here for you all, a plain box that has been made into something so beautiful. It's got Mouldit for Lord Ganesha and the pattern around it and the lovely glass colours that lend a look of glass stuck on it using Fabric Glue.