12 AMAZING CRAFTS FOR REPUBLIC DAY CELEBRATION
26th January - Republic Day – honours the date on which the Constitution of India came into force replacing the Government of India Act as the governing document of India. Republic Day Celebrations are an integral part of this occasion. It is no doubt a very proud moment for us as Indians and a way to spread the spirit of patriotism and solidarity in every way. It's a coming together of communities, societies, religions and diverse sects that highlight the fact that there is unity in diversity which helps in strengthening our roots in our own Country. Here are a gamut of articles and projects that we have especially designed for Republic Day Celebrations as engaging activities for all age groups. It was a very enriching journey for us to create; we hope you too would find all them equally interesting.
Happy Republic Day Poster
An apt Republic Day Poster that represents Unity in Diversity of our Nation. With varied representations from states and cultures coming together as one. This poster is a pop up poster that gives a different look when pinned appropriately up on wall for the occasion. This poster making activity is a great way to get your children involved in a meaningful craft activity. Thereby learning the relevance of Republic Day and forming their own valued patriotic expressions that would mould them into intelligent citizens of tomorrow.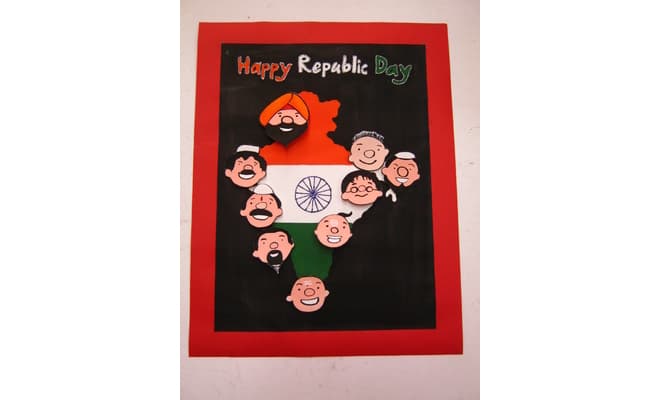 Do it Yourself Badge for Republic Day
Here you have a rather interesting diy craft activity that helps you learn how to make badges. Amongst the many things that can be made for Republic Day a badge is quite appropriate that you can make and proudly wear on yourself in person. It's made with our country's tricolour and one feels rather proud of making it and wearing it to show one's solidarity towards the nation. Get your kids engrossed with varied themes attached with Republic Day that can be interestingly and creatively translated on the badges.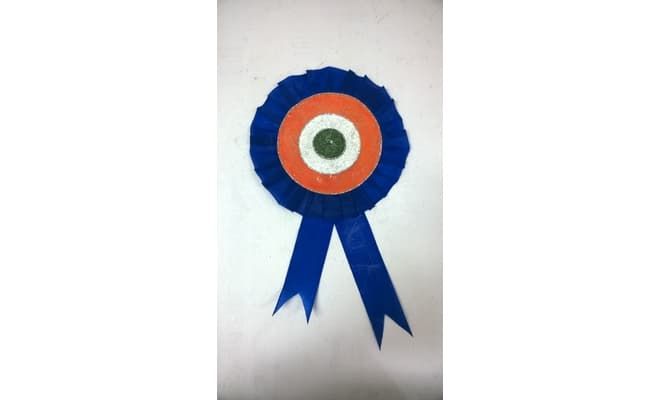 Tri Coloured Republic Day Flowers
Make these Republic Day flowers and enhance them the way you desire and gift it proudly to close friends and family members on the occasion of Republic Day. All one needs are coloured papers and few embellishments and glitter outliners. Make these flowers are creatively as you want and display them on your school boards for display or an appropriate place where you can earn appreciations and spread the feeling of patriotism amongst one and all.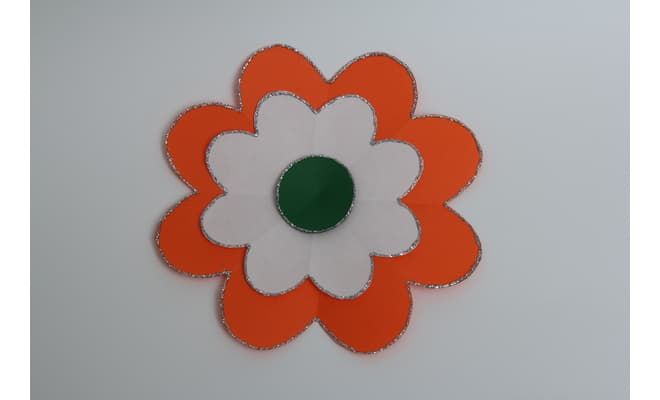 National flag of India Pop Up Card
Make Republic day greeting cards and spread the spirit of patriotism and unity amongst all you meet on the occasion of Republic day. This card is a card with a twist it's a creatively crafted pop up card that is not only pleasant to receive but interesting to make too. This is a great card for beginners to attempt and make. The requirements are basics like card paper, Fevistik and a pair of scissors. A new technique can be learnt by making this rather innovative card.
Tri Coloured DIY Flower Wrist Band
Try your hand at this diy wristband especially crafted for the occasion of Republic day. It is simple and easy to make and requires very basic materials. Make these and gift them to your near and dear ones on the occasion of Republic Day. Create them and distribute them amongst members in your neighborhood thereby spreading the feeling and spirit of patriotism.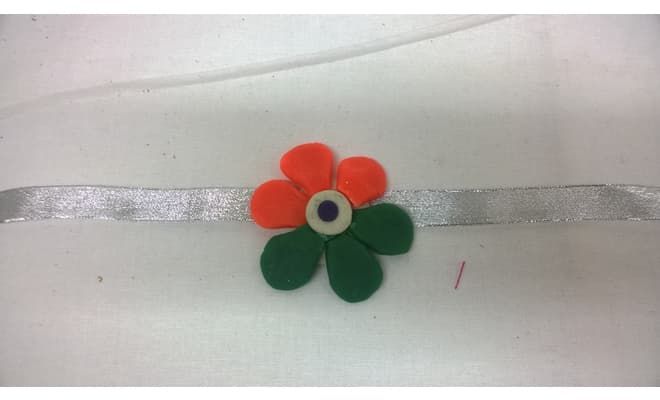 DIY Medals for Republic Day
A very innovative way to celebrate and spread the spirit of patriotism is these diy medals that can be distributed amongst close and dear ones. Learn to make these and get creative by shaping them the way you like and desire. It is very symbolic to have a medal such as this on you to feel proud as a true citizen of the country.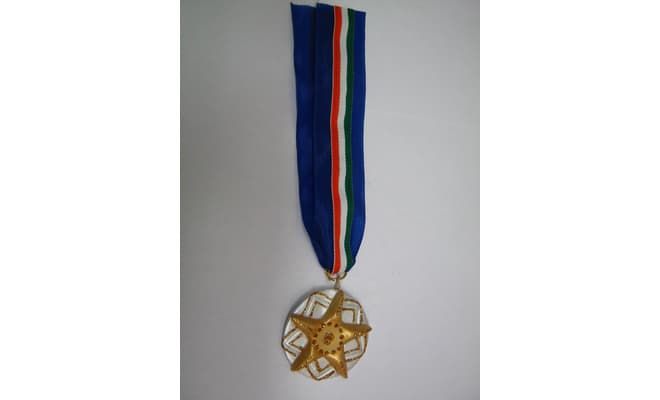 Republic Day Craft Tableau
A very symbolic diy tableau that translates a feeling of power and strength of our Nation. Very depictive of our Country's progress and development that makes all citizens proud to be associated and born in a nation such as ours. Learn and make this tableau or think of iconic images that would spread and convey the message appropriately on the occasion of Republic Day.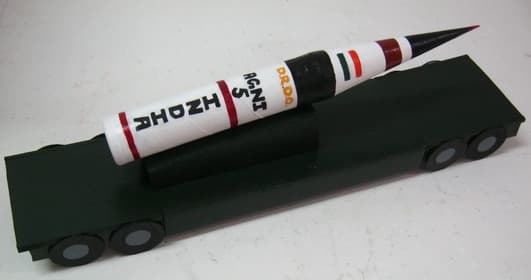 Indian Flag With Fingerprints
What to make for Republic Day? Something different and something that's useful....here is an interesting Indian flag craft that can be attempted by you all. This is one of the most basic and simple craft that is done merely with fingerprints. It looks beautiful and can be done at school, college or at home too. Make it in different sizes and adopt the same technique of fingerprinting and feel proud of your creation. Make these flags and distribute it amongst people in your neighborhood and spread the spirit of unity and patriotism.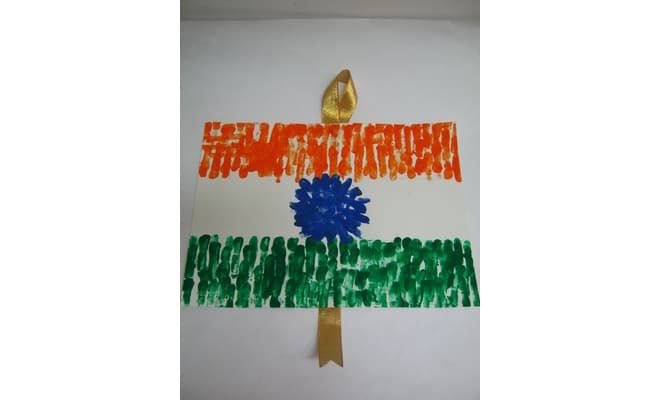 Tri Colour Butterfly Cap
This activity helps you learn how to make a cap that too which has been customized appropriately for the occasion of Republic Day. It can be made well in advance so that you can be seen wearing this cap proudly to express your love for the Nation. Make it and also distribute them in your neighborhood to exhibit solidarity, brotherhood and a proud spirit of patriotism on the occasion of Republic Day.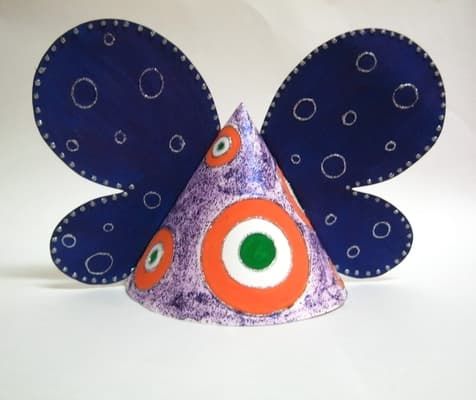 DIY Tricolour Photoframe
Make these frames for posters to depict symbols or images related to the occasion of Republic Day. Decorate the frames in our National tri colours and either gift them on the occasion of Republic Day or simply enhance your spaces. These picture frames can be made in very innovative ways we have shown you one way of doing it. Get creative and think of more such inspirational ideas and showcase them proudly to spread the spirit of solidarity and unity for the Nation.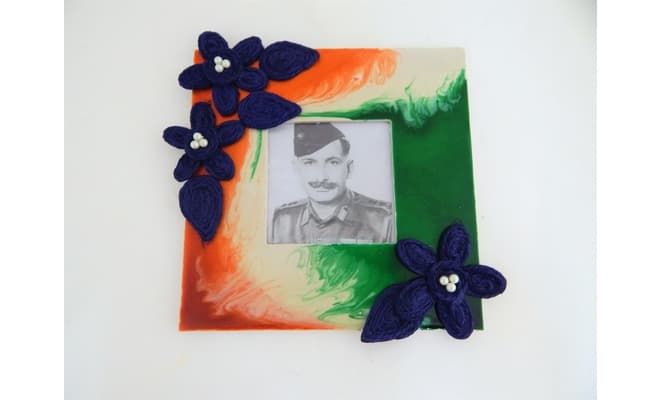 Paper Pinwheel for Republic Day
A very different way of expressing one's love for the nation are through pinwheels. Here is a pinwheel craft activity that you can learn and teach other hobbyists and craft lovers alike. Once made see it spin with the tricolours in the light breeze and feel that undying spirit for the Nation. It's a great craft activity which can be attempted and made by beginners too and gift them around in the neighborhood.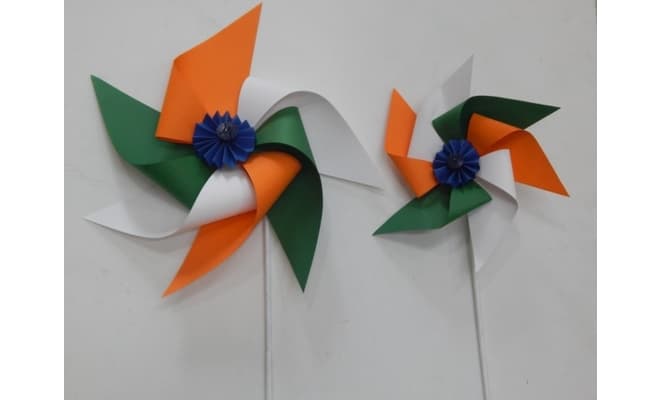 Republic Day Poster in 6 Steps
This beautiful and delicate wall poster is not only pretty to look at but can be adorned on the walls of your homes too. Make such wall posters for various special occasions and get innovative and creative. Make them as projects for your school and college and have fun with punched flowers and arrange them in the colours of our Country's national flag. One could choose various symbols and signs pertaining to our Nation or elements related to Republic Day and proudly display your patriotism for your Country.