13 Must Try Diwali Rangoli Ideas for Your Home
Diwali rangoli made on thresholds has meant and stood for prosperity, good vibes and lots of happiness to come. Not moving away from the tradition and still maintaining the core essence, we have made a whole array of rangolis with various elements that gives a touch of modernity along with tradition.
This Diwali let's try something new and make a more memorable one.
Rangoli on tiles:
This diwali rangoli made with tiles and glass colours are beautiful and gleam once lit. Lovely to have them placed in your verandah or entrance of your home.
Take a cue from this step by step guidance provided to make your own
rangoli on tiles
.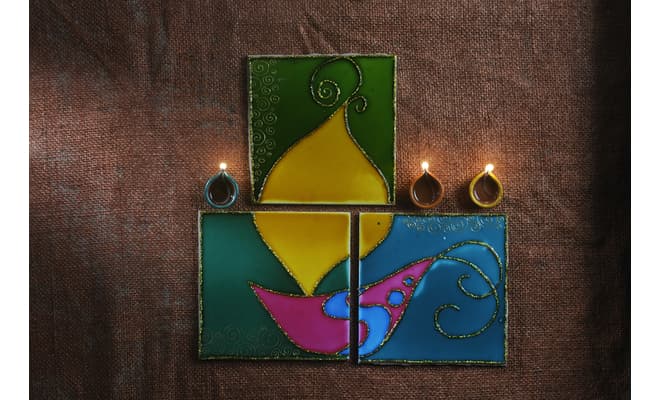 Terracotta Pan Rangoli:
This one is an easy rangoli idea that can be done. Make this as your centre piece and surround them with a lot of diyas it will give a lovely look and feel to your home décor.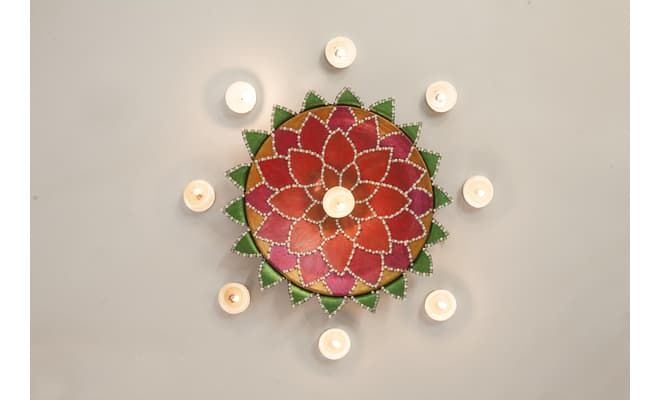 Recycled Rangoli with Quilling Design:
How about we use use recycled materials to make a handmade rangoli?. Here is the way to do it along with quilling strips. Read more here about making
recycled rangoli
using quilling as a technique.
Rangoli Painted On Four Tiles:
Here is an easy rangoli idea that you must try. It uses glass colours on tiles and can be very prettily designed as per your fancy. Try your hand in making this
rangoli on four tiles
today.
Let's combine Tiles & Glass Colours to make Rangoli Design:
A Diwali rangoli that's easy and simple, just make and create a beautiful festive pattern on a tile. Paint them with glass colours that would accentuate it more.
Found this design interesting,
click here
to know the step by step procedure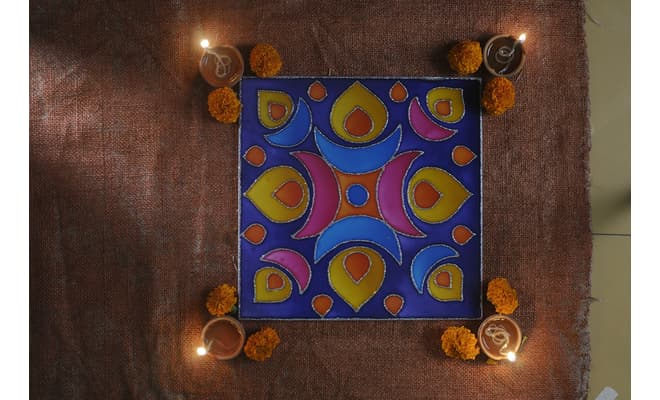 Rangoli Painted with Glass Colours:
Very basic and simple way to make a rangoli with glass colours. Placed amongst a lot of tea lights around would bring out the brilliance of this lovely homey rangoli. Try this simple yet elegant glass colours based rangoli design today.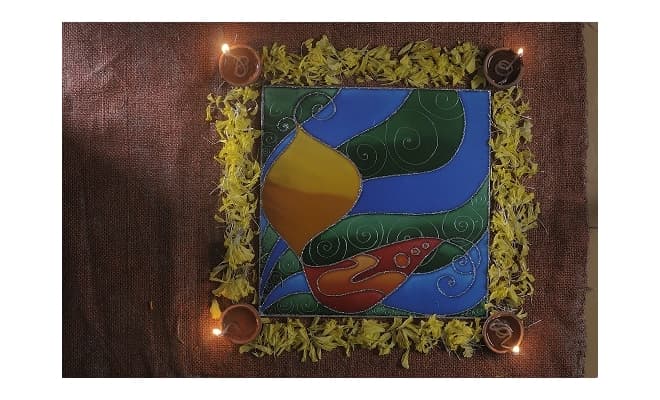 Canvas Rangoli:
Here's a handmade rangoli with a twist. We have used canvas, done a floral cutwork and painted it using Acrylic sparkling colours, it looks really pretty when coordinated with you home décor colour scheme. Try this unique rangoli design today and enhance your home decor.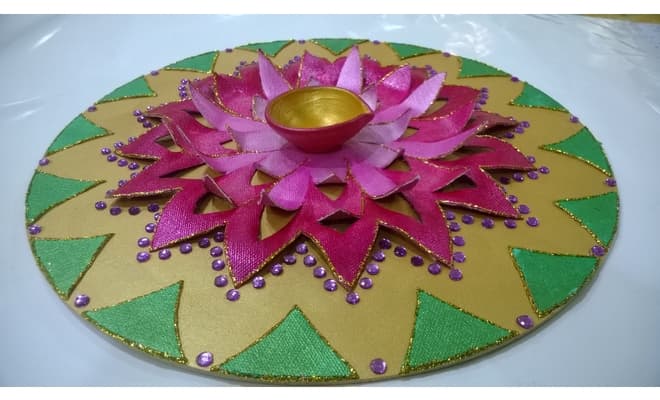 Create Floating Rangoli this Festive Season:
Floating rangolis have now become very trendy and popular, here's one of the many ways of making it. Brighten and enliven them with 3D Glitters and Glass Colours.
Click here and get started with your version of
floating rangolis
.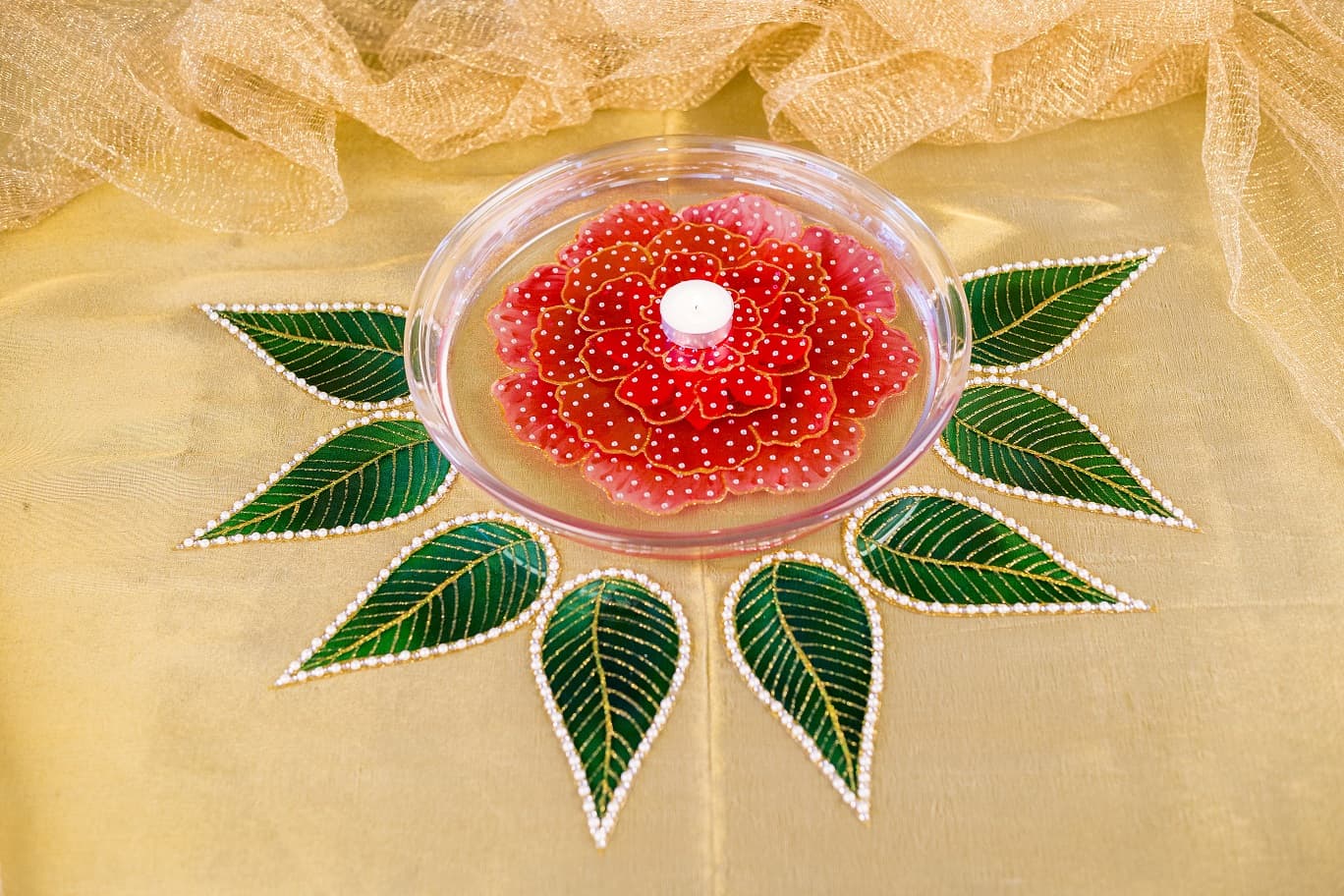 Easy Rangoli Pattern for Diwali:
Make this simple and easy to make rangoli for Diwali. You can mix different shades of colours and merge them to get festive colours. Found this interesting, read more here about how to create
easy rangoli pattern
at home.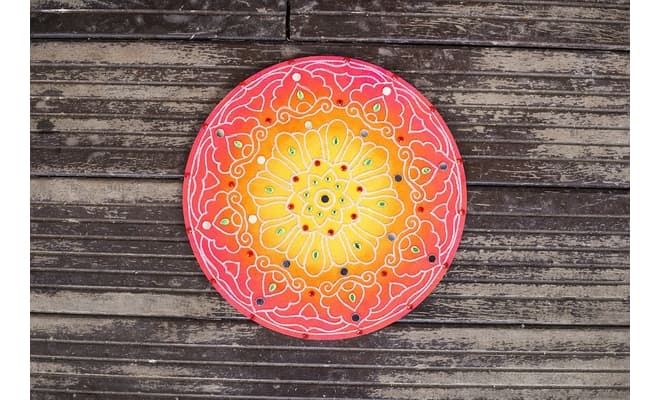 Acrylic Rangoli Making Tutorial:
A multi layered handmade rangoli that uses lovely colour combinations on a wooden placemat. Ever thought of making 3D rangolis', wait no more, try this unique technique of making
reusable rangolis
.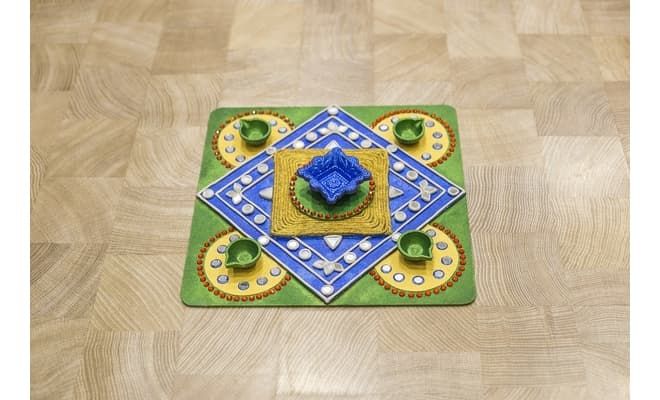 Kutchi Embroidery Inspired Rangoli:
Let's create a rangoli that is inspired by ethnic
traditional Kutchi embroidery
of Gujarat. Feeling experimental this festive season? then you must try making this rangoli.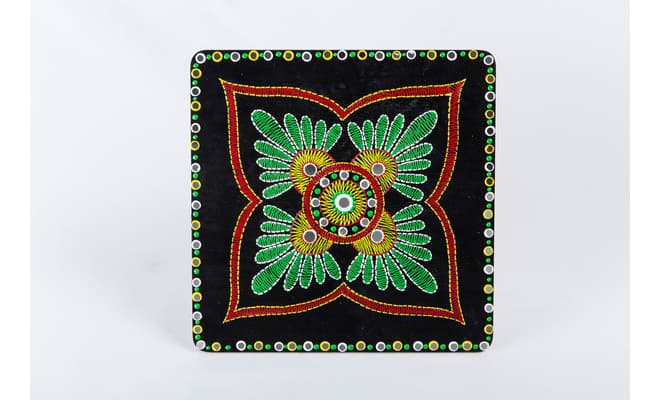 Rangoli with Mirrors and 3D Outliners or Mirrored Rangolis:
Diwali is here and its time again to make some interesting rangolis. Try this diwali rangoli that can be done very easily with mirrors, and easy to find materials. This lovely pattern can look very beautiful when surrounded by flowers and tea lights or diyas.
Know more about how to make
mirrored rangolis
here.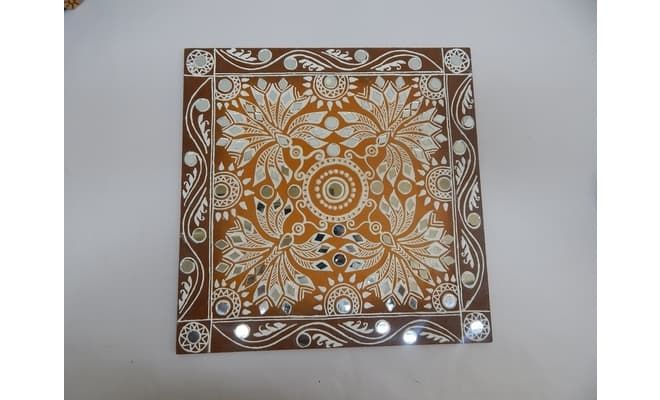 Handpainted Rangoli :
This easy rangoli idea is basic and easy to make for your home this diwali. Make this easy
handpainted rangoli
now by clicking here.