An Introduction to Fabric Painting
HISTORY OF FABRIC PAINTING:
Fabric painting is known to be in existence since about 3000 BC, the earliest date as to when Printing Blocks were discovered.
Fabric paint has it's roots in Asia which eventually made it's way through Europe, India and then Africa.
Around 1000 BC, a form of Fabric painting called Kalamkari meaning 'Pen work' was developed in India using brushes made from animal hair, sticks and bamboo shoots to paint on cloth and fabric.
Around 200 AD the painted fabrics were traded and sold. China and Japan started discovering new techniques.
ABOUT PIDILITE FABRIC COLOURS:
Pidilite has been a pioneer in bringing out Fabric Paints in India. The products are well accepted by the consumers for their versatility and quality. Several types of colours have been introduced to give the painted fabric different effects and dimensions.
Pidilte has also introduced several accessories to enhance the art of Fabric Painting.
BASIC TIPS FOR BEGINNERS
Although Fabric Painting is a very old art it requires a proper understanding of the colours, usage of colours, study of the fabric to be painted on, suitable technique and usage of the painted fabric viz. Saree, Top, Curtains, Coasters, etc.
The most difficult aspect of Fabric Paint is that when once applied it is extremely difficult to
erase the colour off, however with your artistic approach the same can be redefined.
Requirements for Basic Fabric Painting:
Pidilite Acrylic Colours.

Fabric

Fine Art Brushes.

Embroidery Ring, Sponge, Stamps, Blocks, Stencil, Toothbrush, Rollers, Vegetable, etc.

Medium (Water & Thinner)

Liquid Embroidery Tubes

Fabric Glue to the enhance the appearance of the painted project.
Brief explanation on the above is given below
Pidilite Acrylic Colours
FEVICRYL ACRYLIC COLOURS
One of the most popular, versatile, very easy and user friendly colours. These colours were launched about 25 years back and even today it is one of the most widely used colours due to it's variety of colours, shades, usage, versatility and consistency.
FEVICRYL SOFT ACRYLIC COLOURS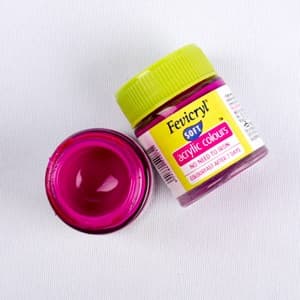 New introduction. These are the latest wonder colours. Can be used on any Fabric. As the name suggests colours are very soft, smooth blending and easy to work with. Excellent for painting on fabric to get a great soft look & feel. The fabric feels & looks like print. Does not give a thick rough texture on the fabric after painting.
The highlight of this colour is that it does not require ironing from the rear side for fixing the colours onto the fabric, however de-starching cotton fabric is required.
FEVICRYL PEARL COLOURS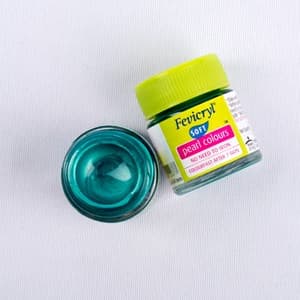 Beautiful soft colours which have an elegant pearl finish. Can be used on any fabric.
Looks good on dark fabrics too. Gives a chic and classy look on chiffons, georgettes, etc.
FEVICRYL PEARL METALLIC COLOURS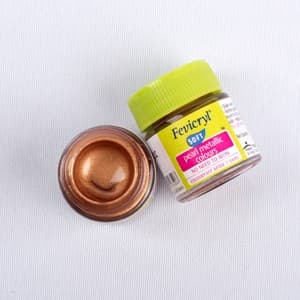 Sophisticated metal finished colours. Good on any coloured fabric. Looks ethnic on dark coloured silk, tusser, etc. The metallic finish is more enhanced on dark fabrics.
FEVICRYL SPARKLING COLOURS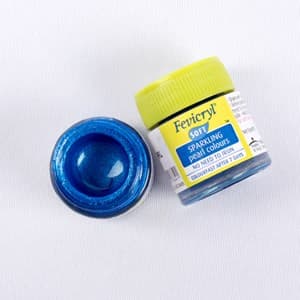 Colours with a mild sparkle, giving a rich look to the painted fabric especially dark coloured fabrics.
LIQUID EMBROIDERY TUBES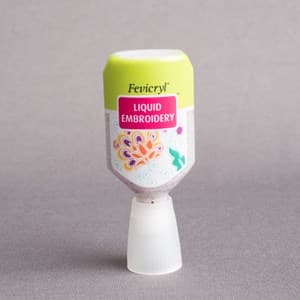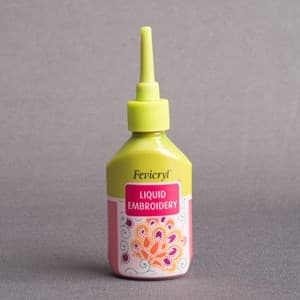 Comes in plain, pearl, pearl metallic and glitters.This is a unique product which can be used independently on fabric to give an embroidered effect or can be used along-with regular colours to enhance the painted design.
FABRIC GLUES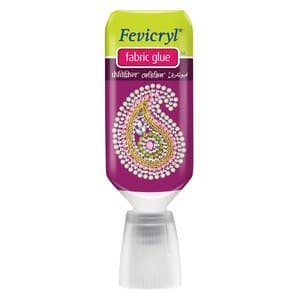 The painted fabric can be made more appealing and glamorous. Fabric glue can be used to stick kundans, beads, mirrors, sequins (chamki), lace, ribbon, etc. to make the painted design more beautiful.
FEVICRYL REGULAR ACRYLIC COLOURS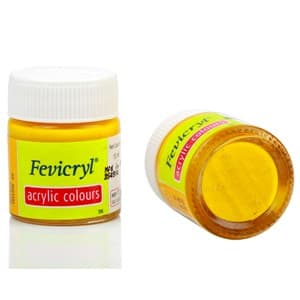 Can be used preferably on any light coloured fabric.
Cotton cloth should be de-starched – Boil the cloth with a pinch of detergent powder for 20-30 minutes, wash, rinse and iron before painting.
Iron the painted fabric on the rear side after 72 hours.
On a dark coloured thick fabric these colours need to be used 2-3 times to give the right effect as the first coat gets absorbed by the dark coloured fabric (The painted fabric feels slightly thick due to repeated coats of paint). Hence one has to be little cautious while working on dark thick fabrics.
The above is a brief on the various Pidilite colours for beginners and the subject is very vast and by constant practice and artistic approach there is no limitations for using the colours for varied applications.