Fabric Painting Techniques for Splatters and Flowers
By Pattie Wilkinson
Splatter Technique Prep:
Splatter painting is very unpredictable, messy, artful, and tons of fun!
Before getting started, you should think about the mess. Cover the work area with disposable paper or plastic, or work outside where you can wash away excess paint. Wear an apron or clothes that can be soiled, since you never know where the paint will end up!
The only splatter painting tools you will need are your favorite acrylic fabric paints, gloves (which are an option), a stick (or the handle of another paintbrush), and brushes with very stiff bristles.
Brushes can range from as small as a toothbrush, to as large as a scrub brush or brush for house painting. Choose a brush that is relative to the size of you project. For example if you are splatter painting a large wall canvas, you might choose a large brush. But if you are splatter painting a small canvas shoe, you might choose a stiff toothbrush.
Clean-up will be easy, since most acrylic fabric paints are water-soluble and can be washed away with soap and water while wet.
Splatter paint gallery: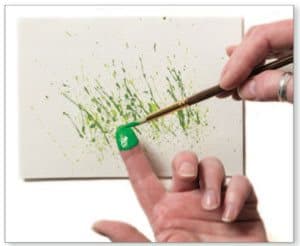 Flicking splatter paint
(photo found at: Cloth Paper Scissors)
http://www.clothpaperscissors.com/blog/let-your-paint-splatters-bloom-into-flower-gardens-a-step-by-step-tutorial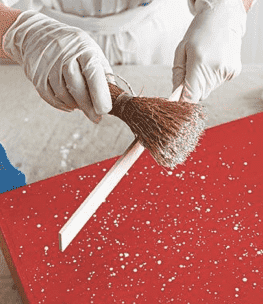 Tapping splatter paint
(photo found at: This Old House)
https://www.thisoldhouse.com/how-to/how-to-create-paint-spattered-furniture
Splatter paint gallery: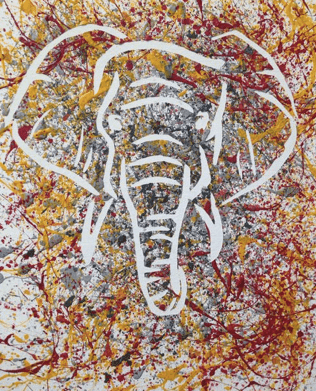 Masked splatter paint canvas
(photo found on Pinterest)
Slinging splatter paint shoes (photo found at: Sketch 42)
http://sketch42blog.com/2012/04/splat-diy-splatter-sneaks/
Painting Flowers on Fabric:
Painting flowers on fabric can be done in a variety of ways. Here are some of my favorites, with the steps to make them.
Stencil
1. Place flower stencil on fabric.
2. Sponge paint inside the stencil outlines.
3. Lift stencil to reveal the flower.
Stamp
1. Apply paint to the stamping surface.
2. Firmly press stamp onto fabric, the lift up to reveal flower.
Dot
1. Dip the end of a paintbrush handle or the eraser on a pencil into paint.
2. Dab paint onto fabric to create an abstract flower.
Brushstroke
1. Stroke paint onto fabric with a fine paintbrush, in a flower outline.
2. Blend colors to create petals that are realistic.
Palette Knife
1. Dip a palette knife into paint and then apply paint to fabric.
2. Blend colors and strokes with the knife to create abstract flowers.
Flower painting gallery: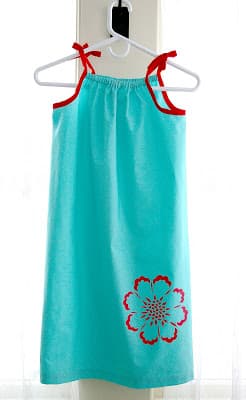 Stenciled Flower on Dress
Photo found at: During Quiet Time
http://duringquiettime.com/2011/03/dress-a-girl-around-the-world-sewalong-embellishing-with-freezer-paper-stencils.html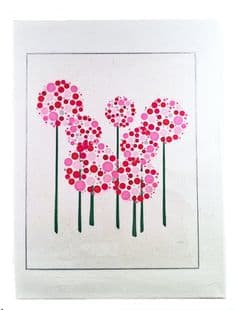 Dot Flowers, On canvas, Photo found On Pinterest

Flower painting gallery: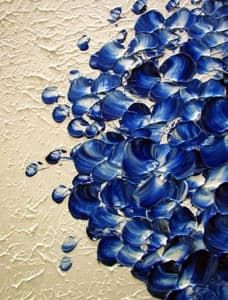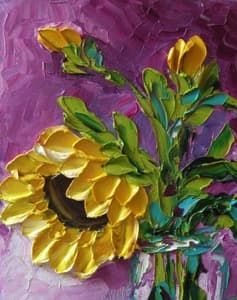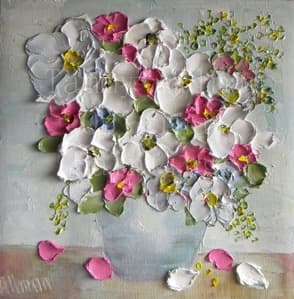 Palette Knife Flowers on canvas
Photo found at: Bored Art
http://www.boredart.com/2015/11/learn-all-about-impasto-paintings.html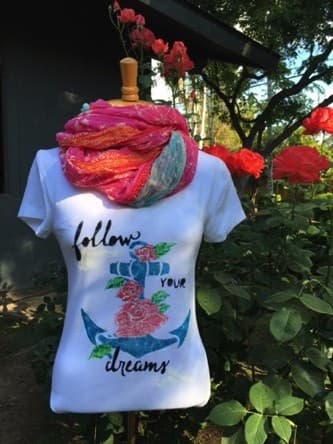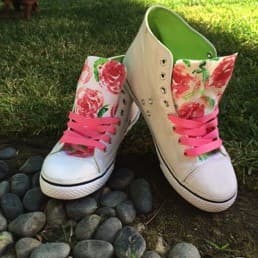 Brushstroke Flower on T-shirt
Found at: http://www.hobbyideas.in/diy/view/summer-canvas-shoes1
Stamped Flower on Shoes
Found at: http://www.hobbyideas.in/diy/view/follow-your-dreams-summer-t-shirt1