Easy Ganesh Chaturthi Backdrop Decoration Ideas at Home
Cute Kite Backdrop for Little Ganesha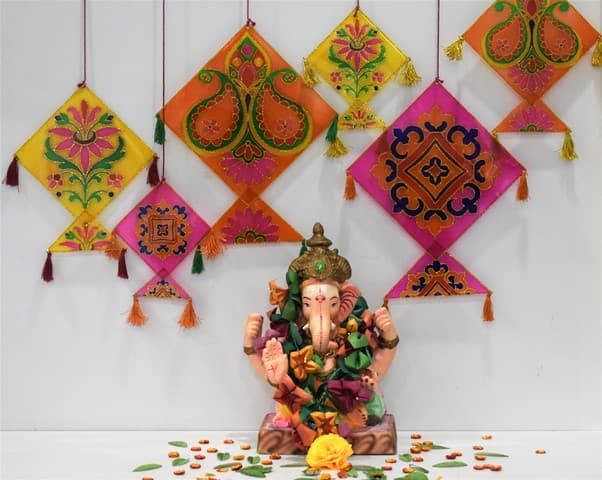 Running out of creative ideas for Ganpati decoration at home this Ganesh Chaturthi? Worry no more! These kite decoration backdrops are perfect for decorating Bappa's background this season! These kites are made using OHP sheets and glass colours which are not only easy to make but pocket friendly as well. Let your creativity run wild and make various combinations; Ganpathi will be indeed happy to be surrounded with such colourful décor.
Mandala Ring Décor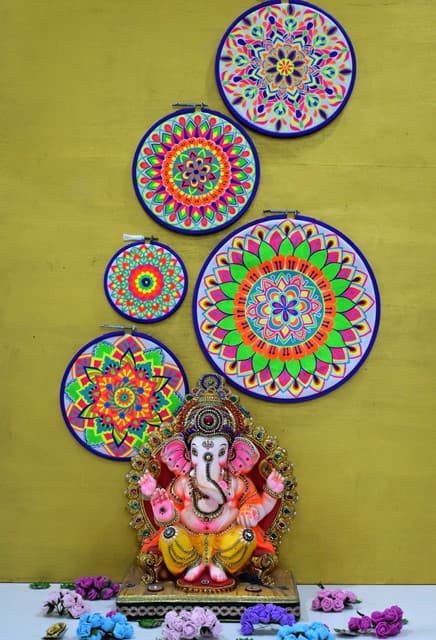 Mandala represents universe. Paint the universe bright and beautiful with Fevicryl Neon Colours and welcome Ganpathi to your home in style. These neon mandala backdrop are just beautiful and give a psychedelic feel to the décor. Go give it a try using simple fabric painting techniques and decorate your home with this unique decoration this Ganesh Chaturthi!
Paisley Wall Décor with Corrugated Box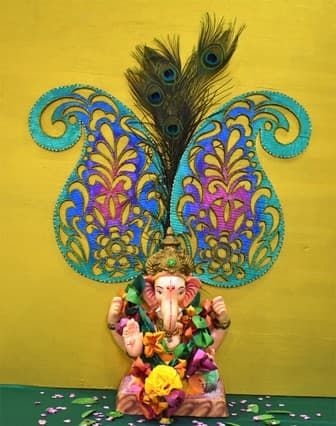 Looking for simple and environmental friendly idea for Lord Ganesha's makhar décor backdrop? Look no further, here we have just the right DIY for you. With effortless best-out-of-waste techniques use the packing material and Fevicryl colours to make this gorgeous Paisley Wall Décor backdrop for this festive season.
Elephant Stencil Backdrop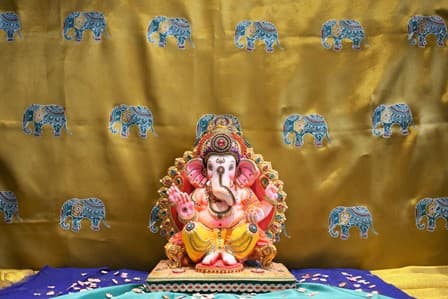 Bappa is coming and let us welcome him in style with this gorgeous backdrop. Made in a jiffy, this is made using a stencil; easy peasy fabric painting and some cool fabric painting skills! Use Fevicryl Fabric Colours to customise the design as per your requirement. This elephant stencil backdrop makes an elegant backdrop which you can do it yourself! So, inspire your inner artist and make these amazing backdrop this Ganesh Chaturthi.
Twine Ball Décor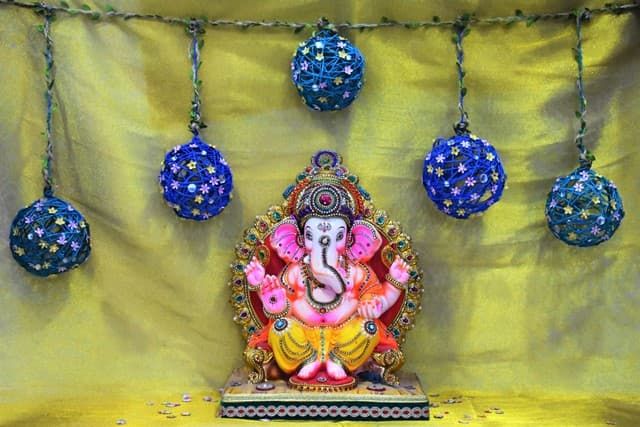 Looking for an idea for the family to come together and make a nice décor for Ganpati? This is just the DIY! Twine Décor Backdrop is made using Fevicol, twine and Fevicryl colours with basic craft techniques, this project is truckloads of fun! This backdrop is so much fun to make where you can explore your creativity and can be a bonding activity with your loved ones. We assure you that Ganpati will also approve!
To learn how to make these amazing Ganpati background decoration with a detailed step-by-step guide you can visit How to Make Kite Backdrop for Ganpati , How to Make Neon Mandala Backdrop for Ganpati Decoration , How to Make Paisley Wall Décor Backdrop for Ganesh Chaturthi , How to Make Thread Balls Backdrop for Ganpati Background Decoration and DIY Satin Backdrop Using Fabric Colours for Ganpati Decoration At Home and enjoy making some unique and creative Ganpati decoration this Ganesh Utsav.