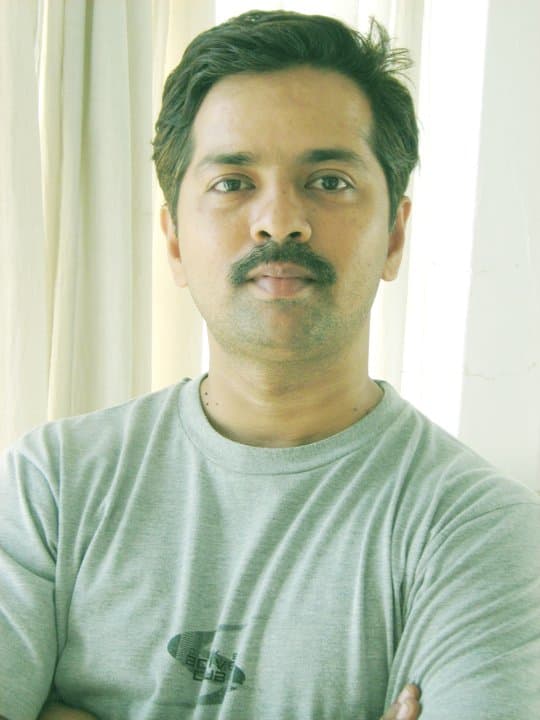 Aniket Khupse
Aniket Khupse is an artist par excellance, graduated from Sir J. J. School Of Arts – Mumbai. He has participated in a number of prestigious exhibitions in India as well as overseas. Most recently it was "Tantra of Life" a solo exhibition held in Mumbai this year. He has been the recipient of a number of illustrious awards like the "Young Artist Scholarship" for the year 2000 – 2001 by the Department of Culture, Government of India, New Delhi. It is our pride and prestige to have an artist like him feature in our magazine.
1. Can you tell us a little about your personal life and your formative years ?
I work as a fine artist for the last 15 years. I fancy painting a lot and my favourite medium being water colours on paper. I specialise in Theme Wall Designs, Wall Murals and have participated in a number of exhibitions showing my work internationally as well as back home. I dedicate a good 12 to 14 years for my passion in painting and creating. There are Art Schools where I lend my expertise by way of giving lectures and demonstrations. Recently, this Jan I was proud to have my exhibition called "Tantra Of Life" at the Jehangir Art Gallery and at the Point Of View Gallery in Mumbai.
2. Can you give us a little more information about how you started your career ?
During my college years I have done a lot of experimental work in oil colour landscapes in Impressionism style and dry pastels portraits. My teacher and mentor Kashinath Salve curated the M.F.A. Student's Exhibition in the year 2000. There were just a select few chosen from this exhibition by Saffron Art for the promotion of our works on their site. This gave a huge boost to my artist career. Saffron Art from there on gave me a vast impetus by promoting my works of art and paintings. It was a proud moment for me when I was chosen "Artist Of The Month" by them. My works of art were also displayed in "Collection Of The Month".
My first solo exhibition was held at Jehangir Art Gallery, followed by another such one at Prithvi Gallery. My style and technique of using acrylic medium was appreciated a lot by art lovers across the board, who in turn started investing and buying my paintings thereby giving me the encouragement that helped me grow on as an artist, as I saw what I was painting and creating reached out to art lovers alike. In 2007, I displayed my first water colour paintings. I have now developed my own website www.aniketkhupse.com that showcases my art and painting in a full fledged manner.
3. How do you find yourself becoming an entrepreneur ? Do you have any advice for the young entrepreneurs ?
As an artist I have had to put in a lot of hard work. Having worked with water colours and acrylic colours, it helped me get a strong hold on mediums and I soon developed my own style of narrating stories through my paintings. My advice for the young budding students and artists would be to concentrate more on sketching, drawings and landscapes as it helps change one's visual sense.
4. Could you give us some more information your form and style of work ?
I am rather fascinated with drawings and drawing oriented paintings. I like doing figurative, small narrations, story telling, symbolic forms and metro city subjects. One would notice a lot of narrations and interactions painted in the background of my paintings. The main primary objects would always be in bold colours. I use a lot of transparent layers on layers in my paintings.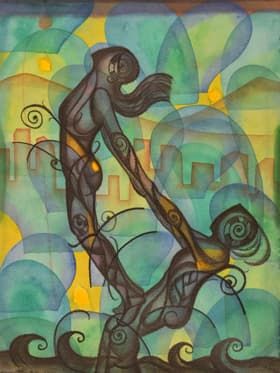 5. Could you give us some background on how your style of art form developed over the years ?
I have been using acrylic and water colours for the last 15 years on acid paper. In my ealier days I used photographic images in my paintings. Alot of story telling was seen and depicted by me in mt paintings. I slowly developed my characters in my paintings by making them more matured towards life. I allegorically showed my characters leaving the metro city and reaching high levels by experiences in life. "Memories, Remebering and Repeating", "A Page From My Diary" were some of my themes for paintings. More recently, "Tantra Of Life" was one of my newer themes, where I depicted bonding, relations and balance indicated through some male and female yogic postures.
6. Would you like to comment on the current art trends the way it exists and how you perceive it ?
For me honestly, it is a matter of being individualistic. It absolutely depends on an individual artist to take trends ahead and to work and present India in style, quality, colours and forms
7. Do you enjoy using Pidilite products ?
If yes, why ?
Yes, I like using a lot of the Pidilite range of products. What I like about them in specific are they are more liquid as well as durable impacting the glossiness. My favourite is Fevicryl Acrylic Colour – PINK !!!!!!!

Website : www,aniketkhupse.com
Email Address : art@aniketkhupse.com