Mr. Vijayraaj Bodhankar
1. Can you tell us a little about your personal life and your formative years ?
I was born in a temple of Dhanodi Bahaddarpur village situated in Wardha District. Both my grandparents were painters and sculptors. There was an atmosphere of high spirituality in the house, that influenced me at a very young age. I learnt the art of drawing when i was young my fore fathers being my utmost inspiration.
2. Can you give us a little more information about how you started your career ?
I completed my S.S.C. in my native place and since my focus was to become only and only a painter, I came to Mumbai in the year 1983 and pursued my education further in the field of Art from the prestigious college – Sir J. J. School Of Art. To consolidate my position in Mumbai I took up an assignment with an Ad Agency but then returned back to my passion Painting.
3. How did you find yourself becoming an enterpreneur ? Do you have any advice for the young enterpreneurs ?
Right from the beginning I had my focus clear of becoming an Artist. I wanted my work as an artist to be a distinguished one. I wanted to be a pioneer in my own right therefore what the other artists were doing was never paramount in my mind. As for me a painting is basically a form of self expression which requires a lot of patience. I proudly had my first solo painting exhibition at the age of 45 and achieved great success.
My advice to the younger budding generation would be to be original and avoid copying or imitating works of others. Unless and until you dont find your own point you would not be able to find your own circle.
"One has to wait for good work; don't chase success, rather success should follow".
4. Could you give us some more information on your form and style of work ?
I developed reading and writing as a hobby which further helped me in gradually developing me in becoming an author. My thinking power was enhanced and I firmly was of the opinion that our own pictures can also and should be created through this power of thought and this insistence of thought channelised me to my first solo exhibition "Positive Thinking Is A Symbol Of God" in the year 2008. It was a commercial success and I received a lot of acclaim through art lovers who appreciated my style of work.The other solo exhibition that I showcased was in the year 2010 "Positive Atmosphere" and "When I Connect With Nature". "Key To Divinity" and "Human Is A Seed" both in the year 2013. All these exhibits were an emergence and intent of thought manifestations that were translated in my art and work.
Working with varied mediums simultaneously helped me develop my own natural style.
5. Could you give us some background on how your style of art form developed over the years?
I was never a fanatic as far as religion was concerned rather was more spiritually inclined. I drew my inspiration and spirituality from great thinkers and philosophers like Swami Vivekanand, Madan Mohan Malviya, Sant Dyneshwar, Sant Tukaram and Dayanand Saraswati. I was completely influenced by these great thinkers and that reflected in my style of work. I was drawn more towards science and it's inventions and firmly believed that God is in our thinking and a human being is very much a part of God.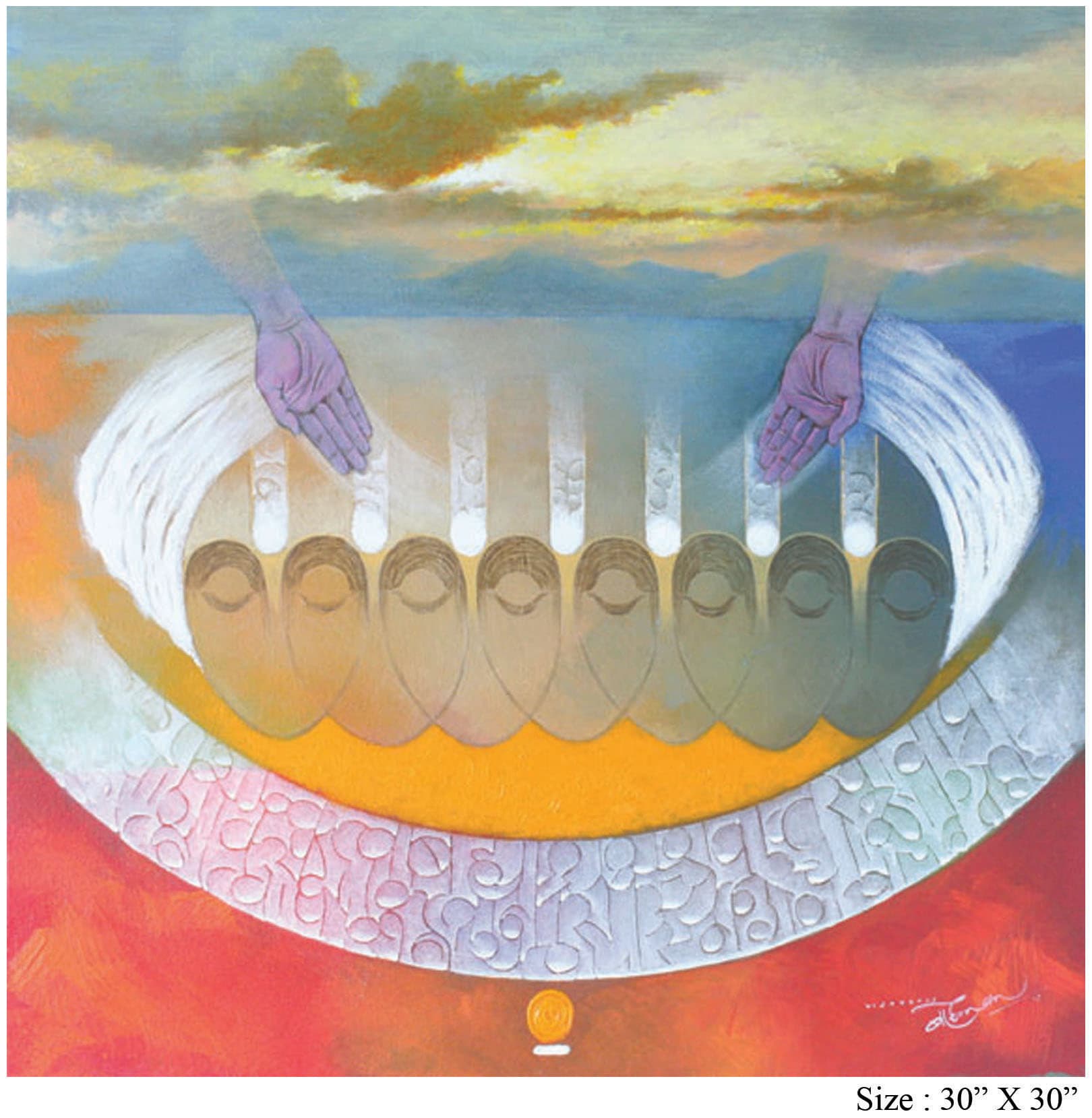 6. Would you like to comment on the current art trends the way it exists and how you perceive it ?
The changing times have brought about a great change in lifestyles which in turn reflect in the paintings that are seen in the artists belonging to the new generation. The new generation of artists are very clear and determined in their thoughts, there is a lot of clarity as to what they want to represent. I am strongly of the opinion that one should accept new thoughts and idealogies and the new generation is just that, therefore I feel close and can relate to the budding artists of today.
7. Do you enjoy using Pidilite products?
If yes, why?
Yes, I do enjoy using the Fevicryl product range and have been using them for years now. I use a lot of Acrylic Colours, Fine Art Brushes and Canvases. The colours are fresh, vibrant and thick. They are easy to mix and merge, using them has given me the result that I have often wanted.
Email : vijayraajbodhankar@yahoo.in
Phone : 022 - 2859 6797