Persia is a treasure trove of handicrafts and other innovative crafts. Some of the crafts are:
Ghalamkar – a type of hand painted or block printed cotton textile. Its name originates in the Persian words "qalam" which means (pen) and "kari" (craftsmanship), meaning drawing with a pen.
Iranian Termeh – a type of Iranian handwoven cloth, produced primarily in the Yazd province.
Kilims – are flat tapestry woven carpets or rugs produced from the Balkans to Pakistan. Kilims can be purely decorative or can function as prayer rugs.
Persian Embroidery – is one of the famous arts they are proud of. It uses mostly floral motifs, especially Persian figures, animals, and patterns related to hunting. The designs are usually diagonal, parallel bands filled with floral ornamentation.
Zardozi – a rich kind of embroidery work that is famous in Iran, amongst other countries, Zardozi comes from two Persian words "Zar" meaning gold and "dozi" which means work. Zardozi embroidery is a type of metal embroidery, which was once used to embellish the attire of Kings and royals in Persia and later introduced to India.
Then there are various kinds of metal works like Khatamkari, Minakari and Toreutics.
Toreutics – is an artistic form of metalworking by hammering gold or silver (or any other material) to then use it for engraving or making minute and delicate patterns.
There are also wood works like Moarragh and wood carving. They also are into ceramic and pottery making.
Persian art also known and the Iranian art is better known for its very distinct architecture, painting, weaving, pottery, calligraphy, metalworking and sculpture. Persian art prominently denoted human figures mostly from the royalty and the male gender. They emphasized on dense decorations geometrically placed that were elegant and harmonious in style and form. They had an affinity towards plant motifs derived from the Chinese art form.
We have taken these very inspirations and have attempted at recreating the grandeur in the form of our articles for home décor.
The bed linen, wall décor and durry have the typical leafage and foliage representations. The tissue box that has the Persian blue that is all favorite colour more so in ceramics and pottery. The partition has motifs that can be seen in the architecture and sculptures of Persian art forms. The dreamcatcher especially the colours used are very Persian in nature.
In all the articles we have taken inspiration from the Persian culture and tradition and we have been conscious in putting our own very nuances too.
Bed Runner and Pillow Cover
Create an innovative festival craft idea by making this bed runner. Also use it as a home decor. You can paint the fabric and decorate it for the festival. The motifs that you see on the bed runner and pillow cases have been imbibed from the Persian art and form. Persian motifs are rich and are often seen on their walls, tiles and architecture.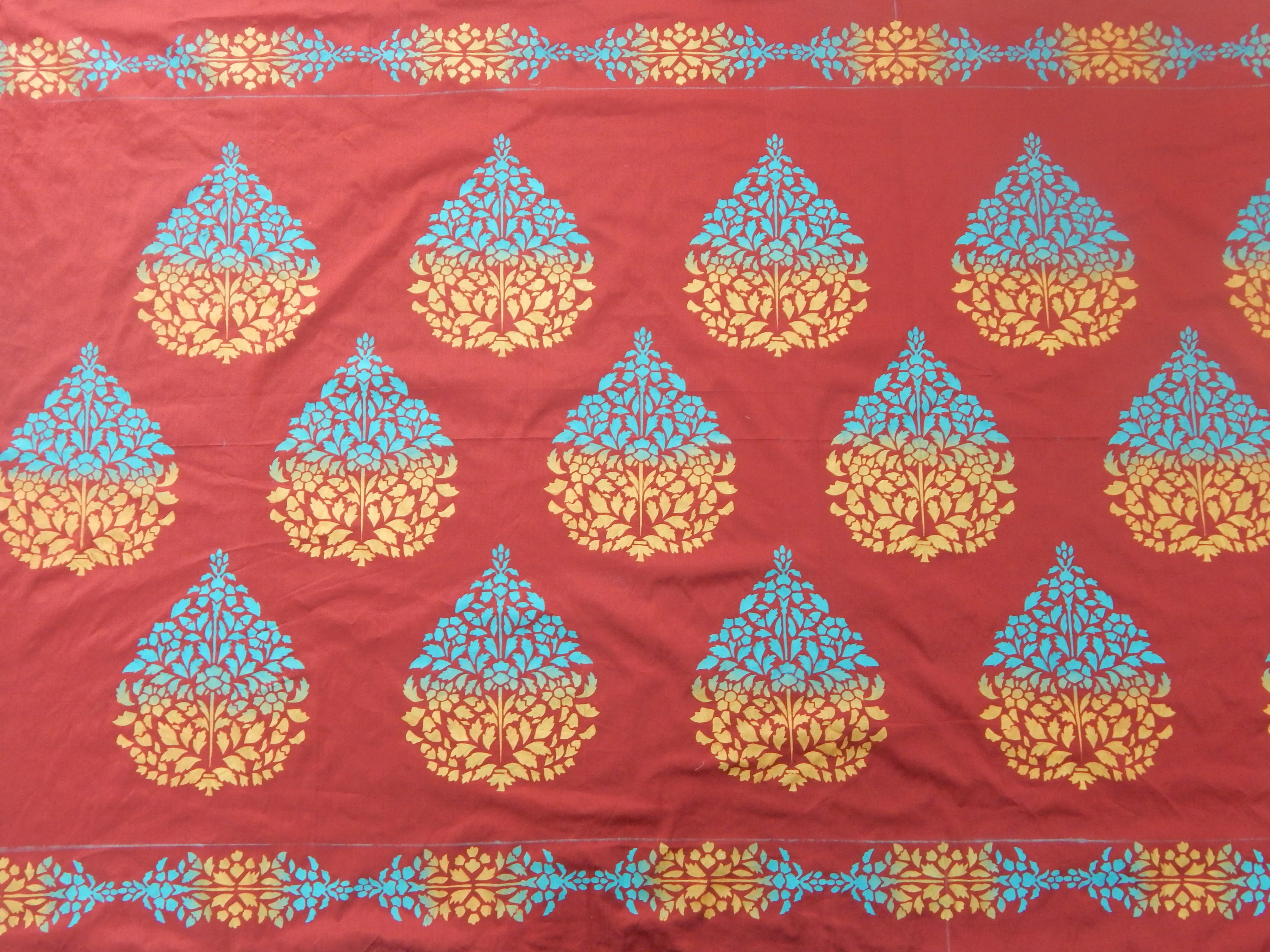 Big Painting with Stencil on a wall
An innovative DIY, make this wall painting with beautiful Persian design stencil. You can use these painting to change the look of that special corner in your home. Persian architecture has been our inspiration here where the Persian motifs have been placed on a wall. This is a very staple Persian pattern that we have done with a stencil.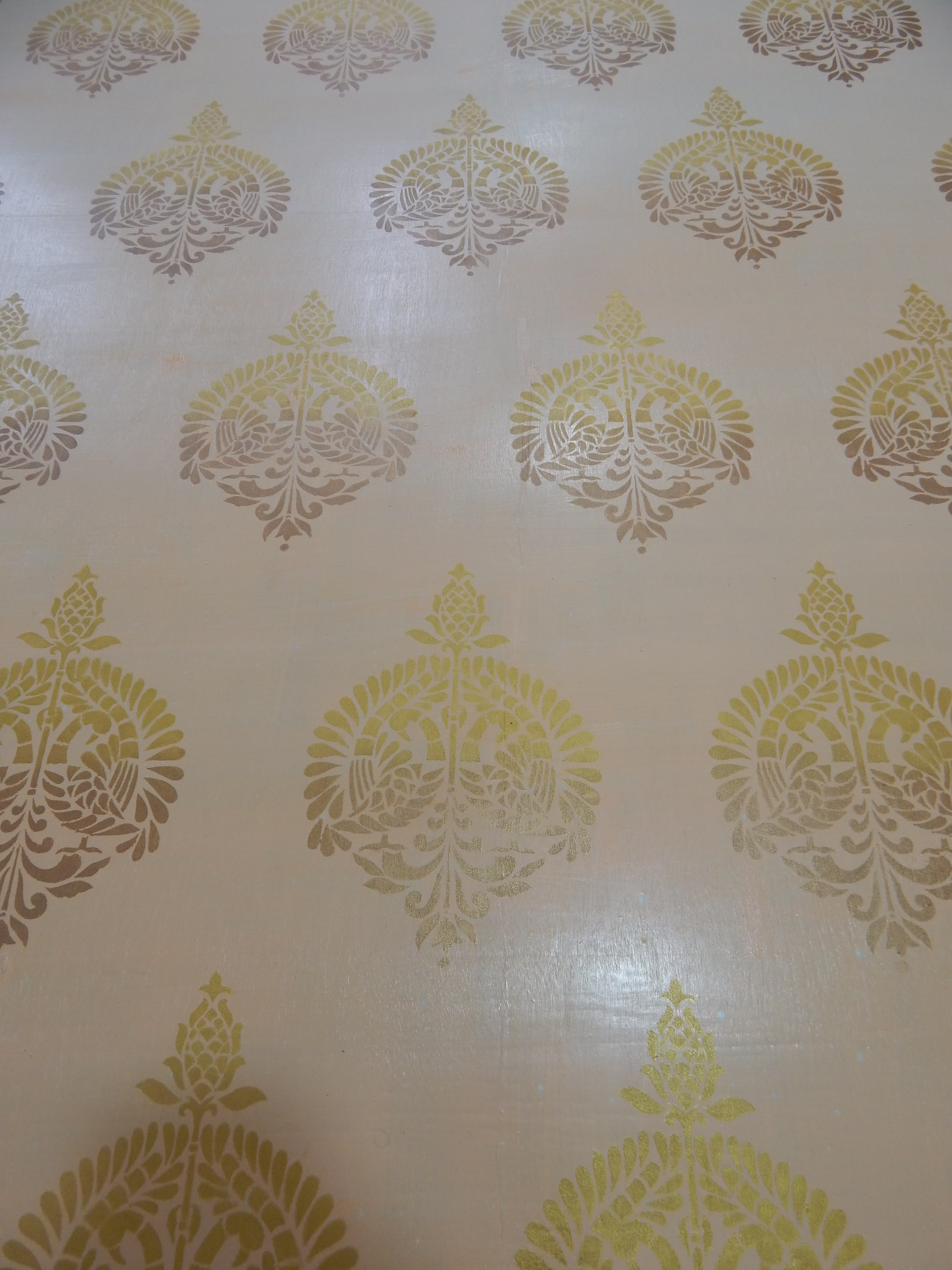 Decorative Diya with Stencil
Come festival time and all of us look for some different festival craft ideas Create some lovely festival decorations on this day which will enhance your home decor too. You can paint the bottle (bottle painting) and decorate it for the festival. Create a beautiful Glass Painting, Glass Painting Designs, Glass Paintings on this auspicious day of the festival. This has been made taking inspiration from Persian pattern or jali design.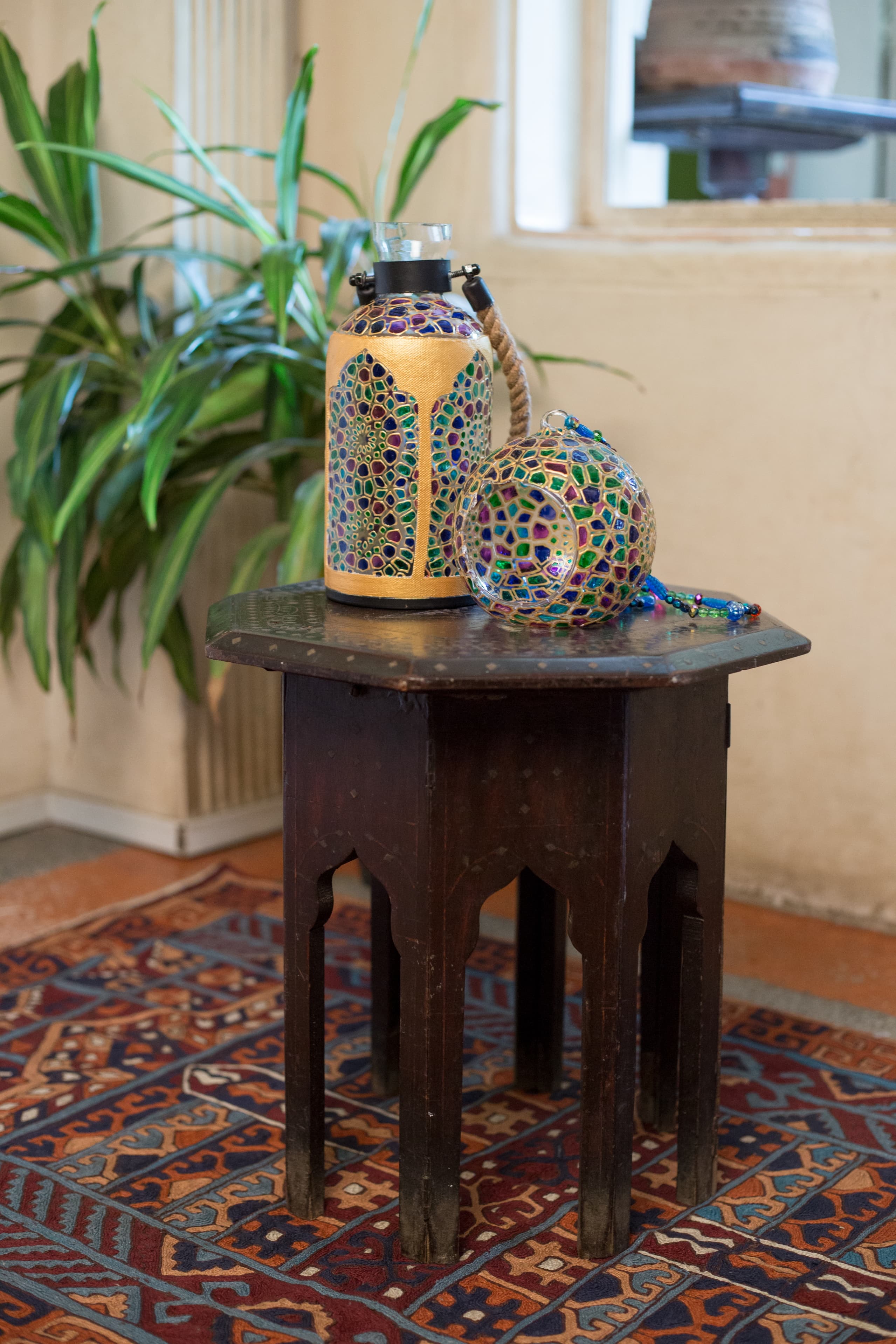 Azure Dream Catcher
A Dream catcher is a contemporary and an arty craft idea. Use it as a home decor too. With this DIY learn how to do fabric painting and fabric burnout technique. Made using Persian pattern design it is resplendent in its glory. Persian art is a rich form of art which has influenced many an art forms around the globe.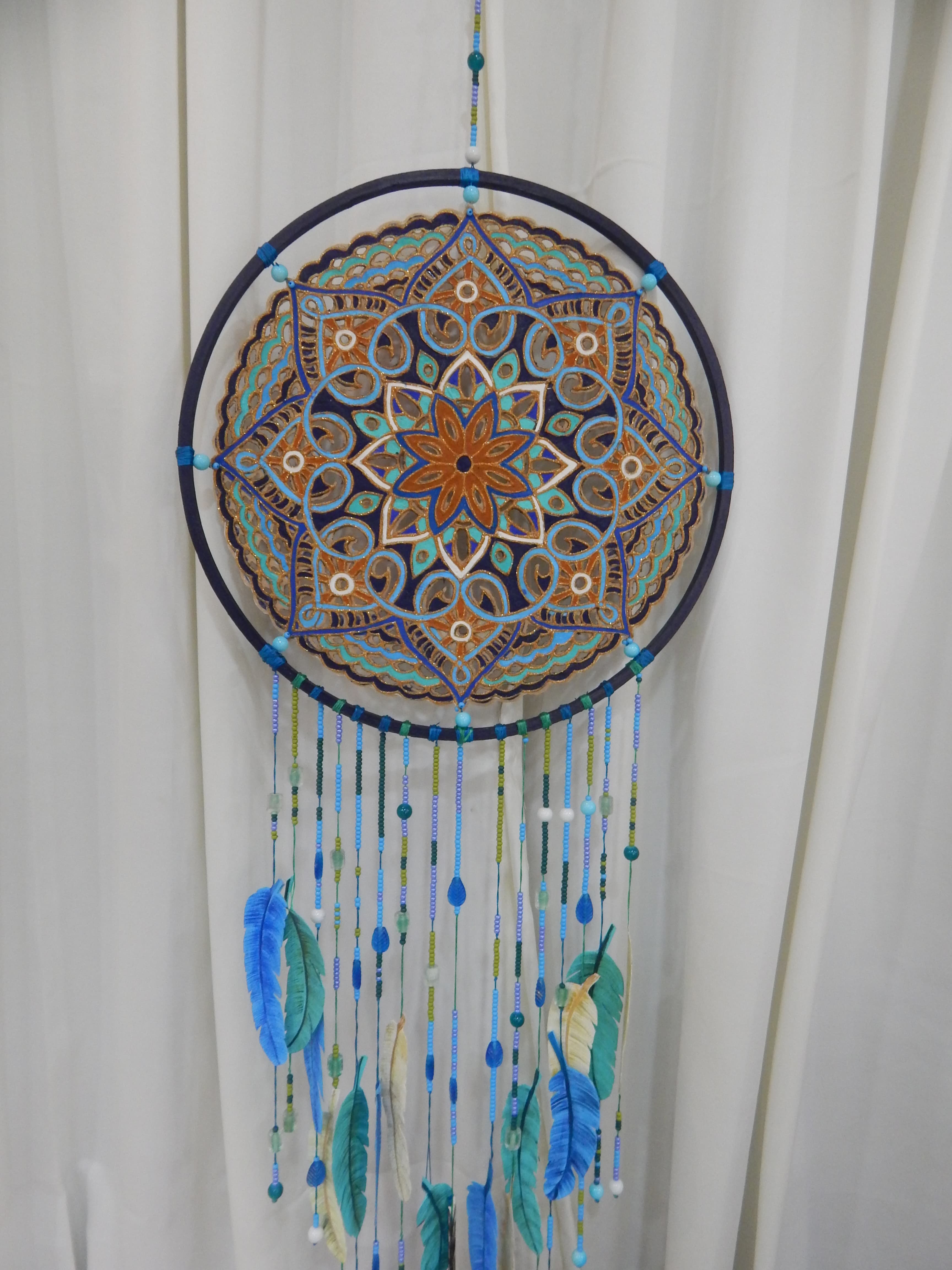 Durry
A festive denim durry is one of pleasing craft ideas. Make your personalised festival decorations on this day for gifiting. It can be definately a brilliant addition to your home decor too. It has colours that pop making these festival craft activities more enjoyable. The Persian designs in the durry have been inspired from Persian architecture.
Mixed Media Painting
Home decor is incomplete without wall art. One of an interesting craft ideas is this Mixed Media Painting. Use these DIY craft activities to decorate your homes on this auspicious day of the festival. Inspired by Persian architecture and Persian design this painting is sure to catch the eyes of one and all.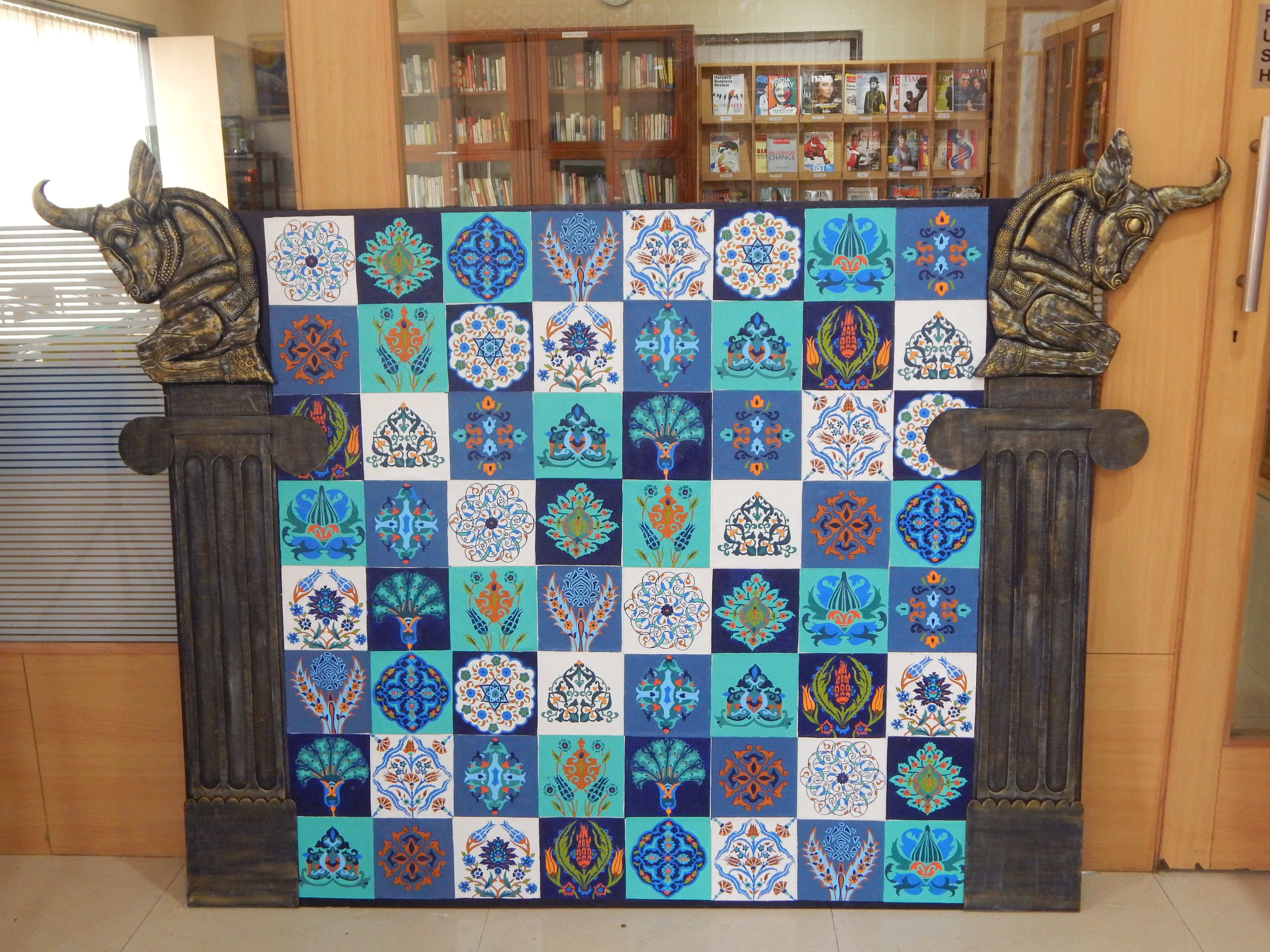 Partition
Make your own DIY partition easily using this recipe. Persian architecture is renowned the world over for the colours and Persian motifs that are used and made. One would see Persian ceramics too having these designs and patterns that we have used in the partition.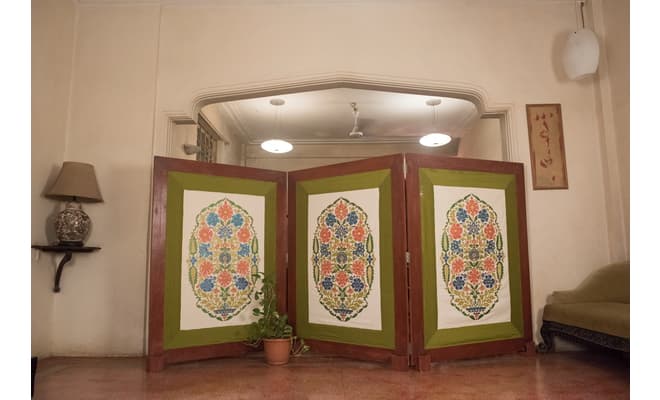 Side table top
This is an easy DIY to make your own decorative side table, using Persian designs. The side table top has those very distinct Persian patterns with vibrant and brilliant colours that further enhance the crafted piece. One would find such Persian patterns on their architectures too.