30 Diy Home Décor Ideas For Summers
30 Diy Home Décor Ideas For Summers
Our homes reflect one's personality and choices. It is that one place that spells you. So here we have a little something for each one. Easy DIY projects that you can customize and personalize to your taste and décor. The easiest thing is to buy something off the shelf, that is not a bad thing, but once you begin making your little home accents and décor pieces, it will give you that satisfaction of owning it entirely from scratch. We have mixed media projects, to spectacular canvas paintings and so much more for you all to explore. So, give in to your creative bend and streak of mind and that little difference for your home. Happy creating!
1) Macaw – Composition on canvas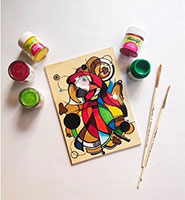 Walls with décor resonate a kind of vibe that reflects one's personality. This is true to a very large extend. This Macaw canvas painting made beautifully using Fevicryl Acrylic Colours on canvas would make for a stunningly exotic wall art for your home. Shades that are full of life and vigour would speak volumes and give depth to the space.

2) Freedom Canvases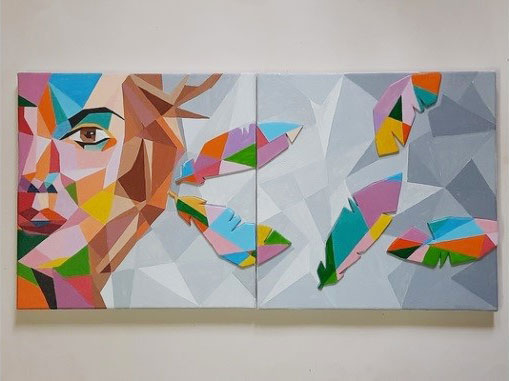 Freedom a right and entitlement for all, be it in expression or speech. A canvas that we have imbued by just these thoughts. An interesting canvas that has Fevicryl Mouldit to bring the relief in the painting, along with Fevicryl Acrylic Colours in shades and hues that are subtle yet impactful. A brilliant wall art for your living room that would convey so much of character and meaning.

3) Rhythm of Soul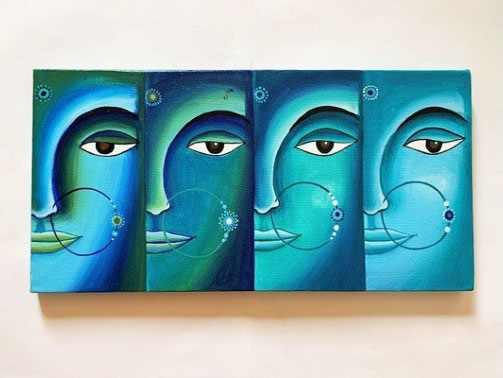 An art par excellence! Mesmeric and intriguing are both that come to mind on seeing this spectacular artwork on canvas. The brilliance of shading is beyond doubt fantastic. You too can make this beautiful art on canvas using Fevicryl Acrylic Colours and make your walls stand out in all its glory.
4) Tribal art décor with paper mache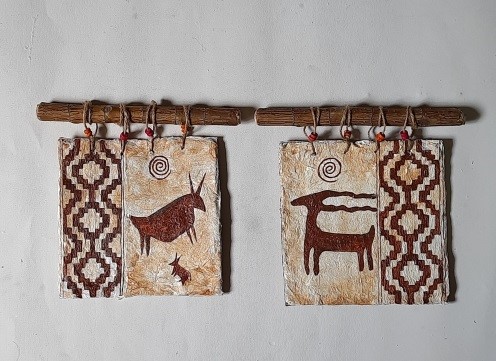 Bring in nature in forms that are unique. Like this wonderful piece of art made with a simple papier mache technique. Assembled and brought together so beautifully, makes for an attractive wall décor accent. Shades are earthy and rustic.
5) Wall painting with tropical trees and flowers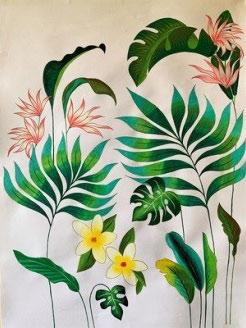 This is simply splendid, an artwork that one can do so effortlessly on walls using Fevicryl Acrylic Colours. Chosen here is the tropical theme of flora, with colours that are so close to nature. Ditch the regular mundane painting, and give your creativity wings and feel the satisfaction, it is priceless.

6) Pichwai painting on wall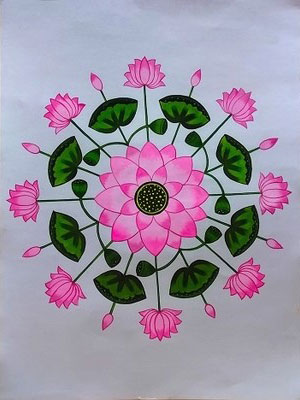 We often accentuate our homes with pieces of art on walls or side cabinets. This time around it is something more interesting, wall art painted using Fevicryl Acrylic Colours, yes! It is the Pichwai artform this time in a mandala form, a concept that is so unique. A feature wall with just this is sure to give that perfect traditional ambience to your home. So, give this simple DIY a try and see how creativity can be so gratifying with just simple thoughts and concepts.
7) African lady with beaded jewellery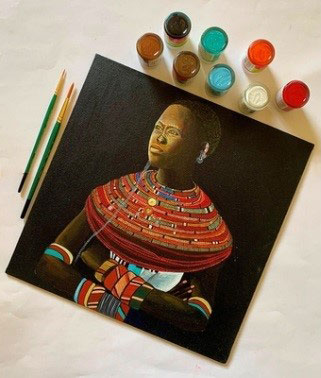 Exotic, isn't it? Canvas that is painted and then accentuated with embellishments of beads has made this artwork so brilliant. Simple touches and see how well it would suit your home décor, creating a niche that can be cozy with perfect lighting and a couch to curl up on. A perfect nook for reading or maybe just blissful thinking. You can get more creative and make a series of these or maybe a large one. Explore what befits your choice and go for it.
8) Bygone era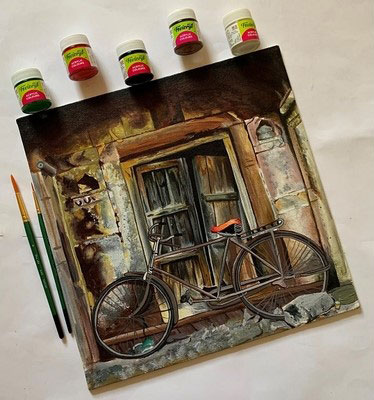 Canvas painting that is created for nostalgia, of an era gone by. Shades used are rustic and earthy to bring out the feels and look as it was back then. A realistic painting made using the versatile Fevicryl Acrylic Colours has done every bit of justice to this painting. You too can choose that one captivating image that you might have in your mind of a moment worth remembering, get it onto your canvas and have it captured for life.
9) Mixed Media wall clock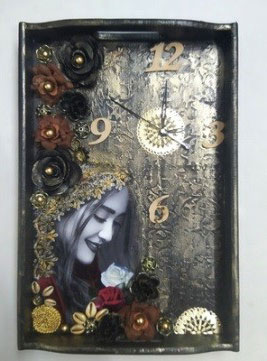 Stunning and chic all in one, is what this DIY spells out clearly. Done in a rather unconventional manner, yet lending that look that is intriguing, to see how it has been made? What are the varied elements that have been used? It is something you would surely like on your walls at home. The shades given are rustic and metallic to compliment the myriad components used to accentuate this wall clock.
10) Chopping Board mixed media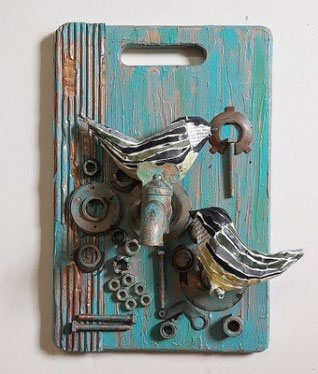 Home reflects one's individual personality and choice. Here is something that we have created with mere basics, literally things that you would find around the house lying redundant. We have used these cleverly and creatively to make a home décor out of it. What does it have, a chopping board, nuts and bolts a tap!!! Amazing, isn't it? The backdrop has been given a fantastic, distressed look and this completes it in every way. So now go no further art and inspirations are just all around, just have an eye for it and see what you will have for yourself, art deco that's stunningly made at home.
11) Pichwai art bottles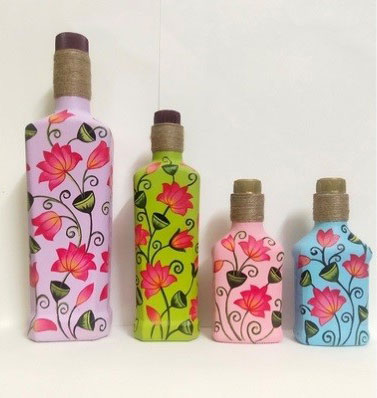 Give a traditional look and feel to your home by making these Pichwai art bottles effortlessly, using Fevicryl Acrylic Colours. They will bring in life and vigor as the shades are attractive and will add that much needed colour to your home palette. Place these amidst greens and some dim lighting and how they stand out and make your nook look oh so pretty!

12) Mixed media kettle with owls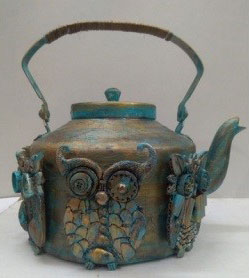 The kettle is something that is here to stay, for sure. It's versatile at so many levels, be it merely painting it, or doing decoupage on it or glass painting, it lends a spectacular look each time. This time around we have given it a completely different treatment. To begin with we have given it a fantastic rustic and distressed look by painting it and giving it that metallic kind of a finish. To make it quirky we have made owls out of Mouldit it and accentuated it. The final look is one that makes for a splendid home décor art piece on a mantle where it would sit with pride!
13) Birds on a tray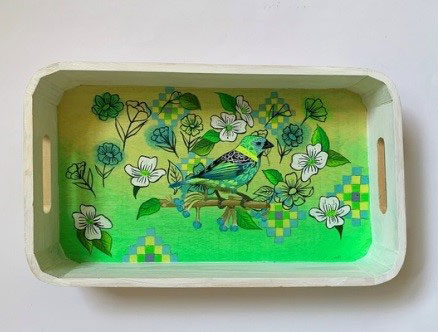 Add this prettily hand painted tray to your kitchen décor and feel proud about having made something handmade. These are inspired by nature with birds and its predominant shade being green. For protection place a thin sheet of glass to bring out its effect and elegance. Bring it to display when you are hosting a party and be prepared for compliments galore.

14) I am a cat person.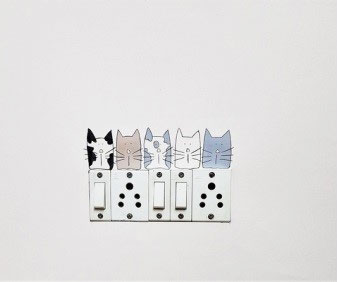 One of the most neglected parts in homes are switch boards that often look shabby and unkempt. Well, the solution is just so easy, and one that is fun, and which can add colour and creativity to your home at large. Paint the surroundings of the switch board like we have with a cat theme, or something that is more to your taste, and there you have a brilliant creation for all to admire and envy.
15) Donuts design on wall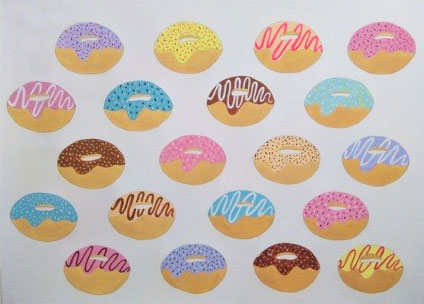 Happiness is what we all seek for, well to begin with let us make our surroundings happy. Isn't that a good start? Nothing expensive only imagination and creativity and loads of enthusiasm is what it would take. Who does not like donuts? So why not donutify our walls using Fevicryl Acrylic Colours to give us all the yumminess it requires. A feature wall with donuts! Each time you glance at it there would be happiness with hunger donut pangs! Not bad!
16) Metallic flowers on wall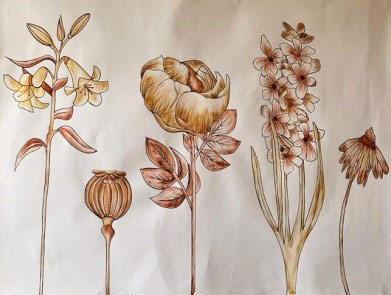 Wall art, a stunning way to express yourself and your creativity. Here we have a wall that has been painted in metallics to showcase florals in such a distinct and prosaic manner. Stunning shades that get your complete attention to the art only. Would you not like a feature wall such as this in your home, well we have made it easy with this DIY just for you? A simple artwork to give your home an instant makeover.

17) Leaf printing on the walls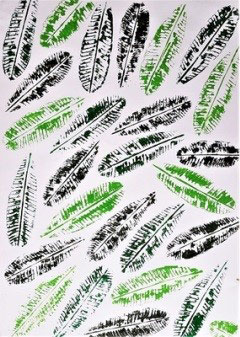 Wallpapers on walls are always a good non messy idea when it comes to giving a whole new look to your home, isn't it? Well, a better and easier way, that has more advantages such as being cost effective, fun, full of creativity, and something that gives you if not a better but the same wallpaper effect, is our leaf printing with Fevicryl Acrylic Colours on your wall. Impressed? Well look at the easy DIY and see how effortlessly you can do it.

18) Stencil design on wall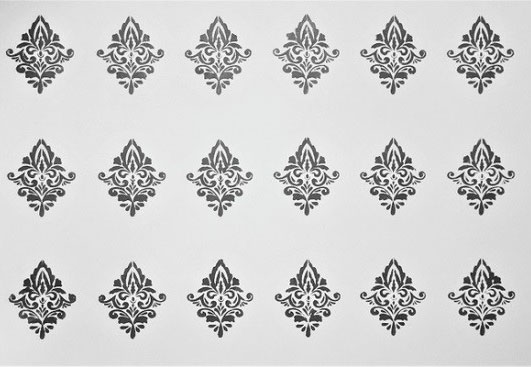 A wall art with stencils! Isn't that simply awesome? Create your own stencils with motifs of your choice and use Fevicryl Acrylic Colours in palettes and shades that best suit and compliment your home ambience and go for it. A stunning wall creation is what you would get, a non-messy way of making that little difference to the overall look of your home.
19) Penguins on switch board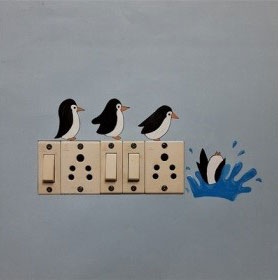 Make your switch boards interesting and at the same time get into an interactive activity too, with members of the family, you will be surprised that each one has a hidden creative streak that needs to be exploited. Start with this easy DIY that has penguins that have been painted around the mundane switch board. Once done you too would marvel that it so little to make it look so outstanding.

20) Vegetable printing on wall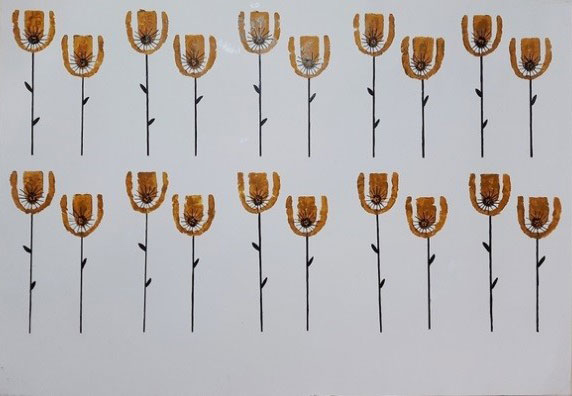 When in school amongst the first few art sessions as children we were taught vegetable block printing, as fascinating it was then the same still exists. We took our next wall art inspiration from potato block printing and made a floral backdrop on a wall. Mere things such as these have virtually transformed the living room space of ours, it would surely inspire you too to try some fun vegetable printing.
21) Triangular canvas with landscape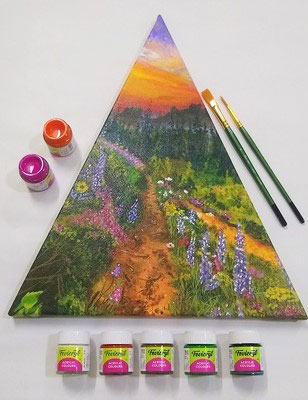 The shape of this canvas truly makes for a lovely painting, and this is exactly what we got down to doing. Fevicryl Acrylic Colours that helped us blend, merge, and create this stunning landscape artwork. Find a perfect wall for this canvas and see how the space lightens up with the myriad nuances of nature and the floral blooms.
22) Frida on my wall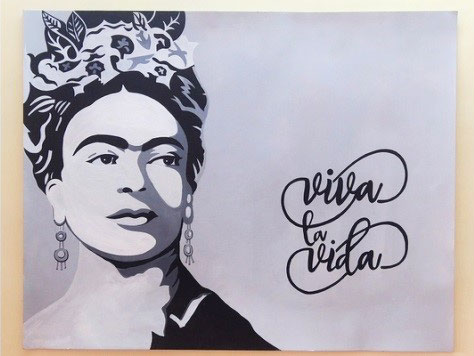 A true classic! The beauty of this painting lies in it being simple and reflects the persona of the artist completely. Frida an inspiration to many, is revered till date. A painting on canvas that is synonymous with all that Frida Kahlo as an artist stood for. An art piece such as this on your wall would simply speak volumes. We have made it easy in our DIY so that you too can explore the artist within you.
23) Wall art floral design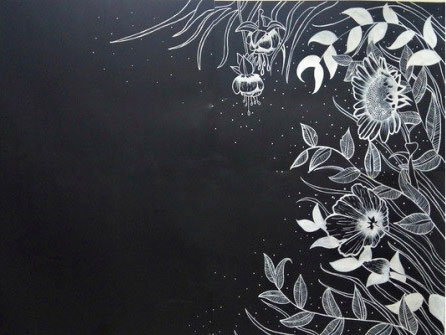 Monochrome shades or monochrome paintings have a allure of their own. Like this exemplary wall art with its black background and florals in their details accentuated only with strokes of white so brilliantly. A masterpiece is how this can be best described as. This should surely inspire you to make atleast one wall in your house like a masterpiece like this. Get clever and make your creative in this style by taking tips from our easy DIY that we have brought to the fore for you.
24) Hydrangea flowers on my wall


Hydrangea florals are so European and a wall art such as this is sure to bring in the spirit so well. The way this has been done is most amazing, where a few mung beans have been cozily packed in a muslin cloth and then fastened. Dip this little bag / potli in Fevicryl Acrylic Colours and go dab dab on your walls creating a pattern very much like a repeated wallpaper print. The results will amaze anyone who sees it. Interesting isn't it, we are sure you would not stop at just one wall!
25) Block printing on wall


An amazing way to redecorate your walls, in an inexpensive and creative way. Block print your walls. Yes, we teach you here how to make simple blocks of foam sheet, wher you can explore and make motifs and designs of your choice and preference. Dip these in Fevicryl Acrylic Colours and make your own pattern and design on a wall, to make it that attractive feature wall. You can choose from shades that complement your home décor and towards the end you will see how just a little imagination and loads of passion can lead to something so wonderful, all done by you.


26) Turtles with dotillism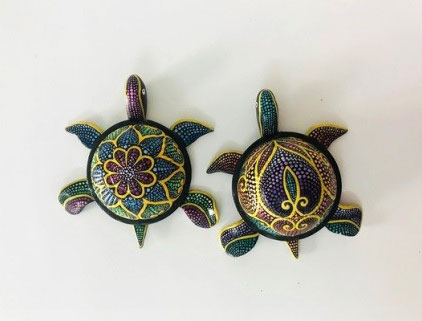 These are aesthetically done and look every bit chic. To know they have been made using paper cups / bowls is another thing! Yes, its' true we used to throw away paper cups, on inverting it we covered it with a thin slab of Mouldit. For the beauty of it all we had Fevicryl Acrylic Colours to paint and do our favorite therapeutic art dots on it, creating a calming pattern. This as a pair is perfect to be placed on a glass center table with tea lights interspersed for that apt look and feel.
27) Beauty of swan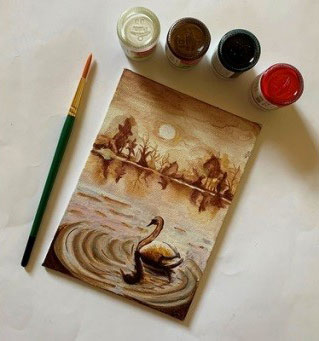 This is acrylic on canvas with perfection! A scenery that reflects serenity in so many ways. A canvas with such an aura, is perfect for your home, to be kept on shelves with books, or close to a lampshade where the light heightens its artistic beauty. We have made this DIY ever so simple for you to do, so that you can add your own personal touches to your home décor, which most certainly more gratifying than shop bought articles. So go for it and make that little difference for your own home.


28) Psychedelic lanterns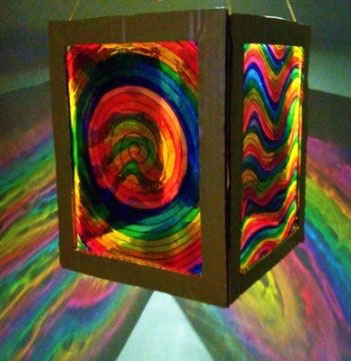 Add spunk to your living room or bedroom with these psychedelic lanterns. They have all the drama in it when lit up. Made simply with corrugated sheets and Fevicryl Glass Colours, it is easy and simple to make. It would be great if you can hand it in your verandah too, the lights expelled are glitzy and jazzy that is much needed in life at times. So here we have it for you, make them for yourselves and maybe for close friends too!
29) Sea scape boats on canvas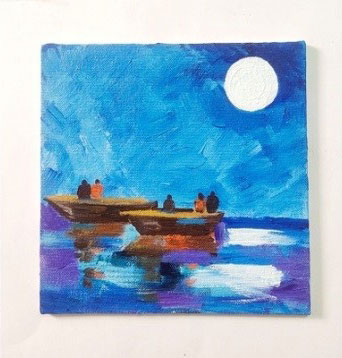 What an apt moment captured in this canvas painting. Moonlit night and a serene boat ride. Well, it is something we have made easy for all do to and flaunt your artistic flare. The perfect Fevicryl Acrylic Colours help you recreate moments such as these with colour shading and blending that has done so well. So, wear that creative hat and go for this canvas painting DIY and have it proudly placed in your home to remind you, that yes each one has a hidden talent within.
30) Father and son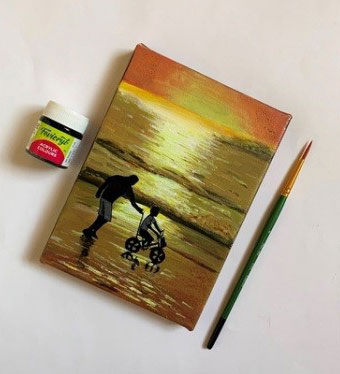 Of bonds and relationships is what this very meaningful canvas reflects. A moment well captured, that speaks volumes of a father and son rapport and relationship. The beautiful evening landscape painted using Fevicryl Acrylic Colours, has done complete justice to the entire depiction. A DIY that you can make as a father or a son for that matter. Gifting it would be a moment that would priceless, and once it takes its place in your homes, it is etched forever.