13 Amazing DIY Diwali Gifting and Home Décor Ideas
Torans are very welcoming and that's why they are adorned on our outside homes, welcoming guests and relatives. It brings forth a sense of warmth coupled with positivity into homes. Thalis and gift boxes that we often use to display before our deities are also revered and decorated with a lot of fervor. This article/post puts forth a selection of all these home décor items in different materials and techniques for you to enhance your home during festive seasons. Diwali decorations at home are appreciated more when they are handmade and crafted so here we have understood just that. So go ahead and indulge in some DIY home décor ideas this festive time and display your pieces with pride.
Pooja Thali:
Festive time calls for Pooja and when you are decorating your complete home in accordance to the festivity, why should you be using the same old Thali to perform Pooja? This Pooja Thali decoration is one real beautifully decorated one that anyone would like to add to their home décor. Made with Shilpkar and Acrylic and Sparkling Colours one can just see the vivaciousness of the
thali
.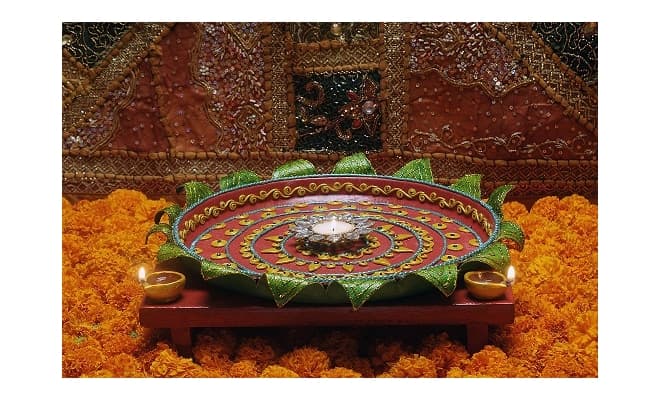 Do It Yourself Classic Marigold Toran:
Marigold is the most common and widely used flower for Toran. How about we recreate this classic toran using glass colours and other simple materials that are not perishable in nature? Join us and click here to view the step by step tutorial to make your DIY toran. Have fun making this
toran
as you will enjoy both the technique and the final result.
Pooja Thali with Mirrorwork:
For a simple yet festive traditional look try this pooja thali pattern. It can be a good diwali gift idea while visiting friends and relatives. The mirror work along with the acrylic and glass colours brings out the festive look of the thali. Learn how to make this
Pooja thali with mirrors
here.
Pooja Table Cover:
Revamp your
pooja space
by painting a beautiful floral design on the table cover which can be colour coordinated to your taste. Soft Acrylic Sparkling Colours that are very apt on fabric would give your work of art the desired look and feel.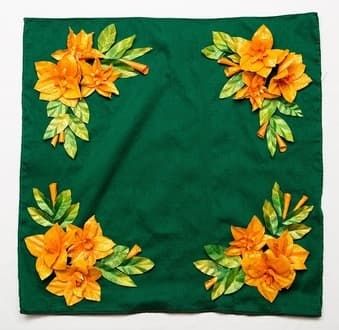 Leaf Shaped Pooja Thali:
Progressing towards the next gen DIY ideas, here is very different concept for Pooja thali. Concept is that of a leaf shaped thali that lends a traditional look when placed in your homes and yet looks very trendy. When thinking of Diwali decorations at home this could be something that you can make.
This has been handcrafted delicately and has been made majorly using Shilpkar Read here detailed steps to make your own
leaf shaped Pooja thali
this Diwali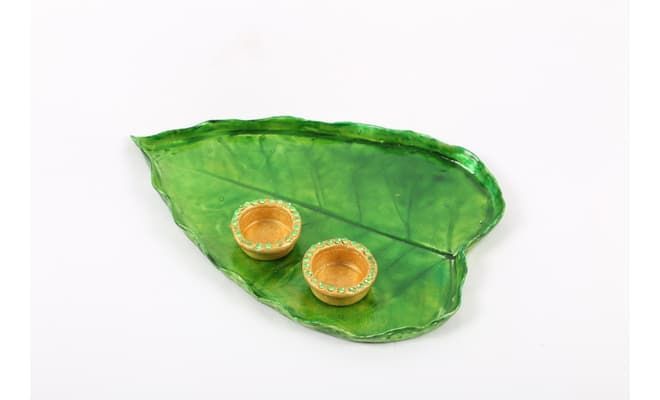 Make your own Jar For Sweets:
A table laden with goodies can be a pleasurable sight. So here we have a great Diwali gift idea that can be made by you, it's a jar of sweets!!!! It requires very basic materials which makes this jar ever so enticing to store your sweets and candies.
Head on to read this specially curated article to make your own
Jar for sweets
Festive Gift Pouches:
Diwali being the festival of lights and gifting. This year make your own
Diwali gift pouches
to gift to your friends and loved ones. It's made using Acrylic Colours and, brought together with Glue drops.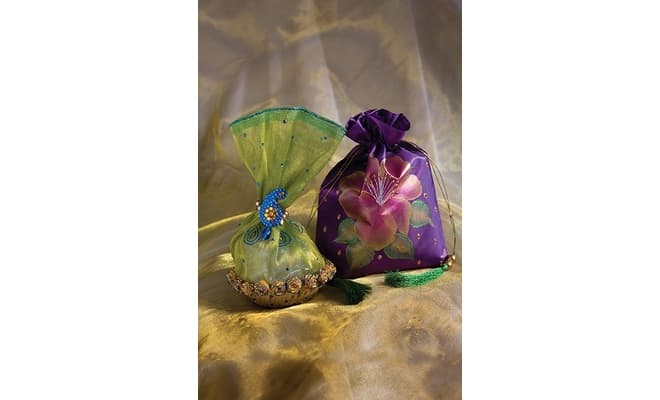 Festive Gift Boxes:
Here is a lovely Diwali gift idea that can be made from scratch by you for this festive season. We often give sweets and mithais to our near and dear ones during Diwali. Being a festive occasion, to add a personalized touch while gifting, we often decorate it by ourself and customize each box which certainly is appreciated by everyone. . Here is an easy
diwali gift box
idea that you can try this time. Know more here. .
Decorative Tray for Home & Gifting:
Thinking about Diwali decorations at home? Try this decorative tray to serve your friends and family this Diwali. It's got a traditional pattern which has been delicately made using 3D Outliners. It's something that you must try and is very basic and simple to make.
What are you waiting for, create now your
DIY decorative tray
this Diwali.
Pooja Thali using Glass Painting:
This Diwali brighten your Pooja ghar with simple glass painting done on a thali to be placed in your pooja room, this is something that you can do this Diwali. Especially it being handmade by you it can be customized according to your home décor and taste.
Read more on how to make handmade
Pooja thali using glass colours.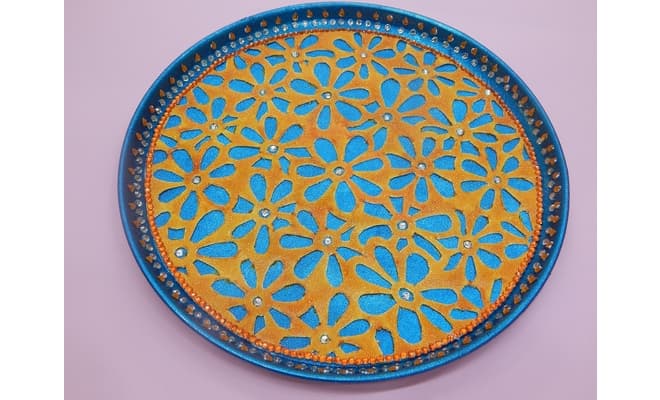 Toran With Glitter Papers:
What could be the best alternative to fresh flowers? Paper Flowers.
Begin your Diwali decorations at home by making torans using glitter papers this season by yourself. This is simple and very basic to make so give it a try and feel proud of your creation. Use Glitter Outliners to enhance the torans.
. Read here how to begin making your
paper flowers toran
.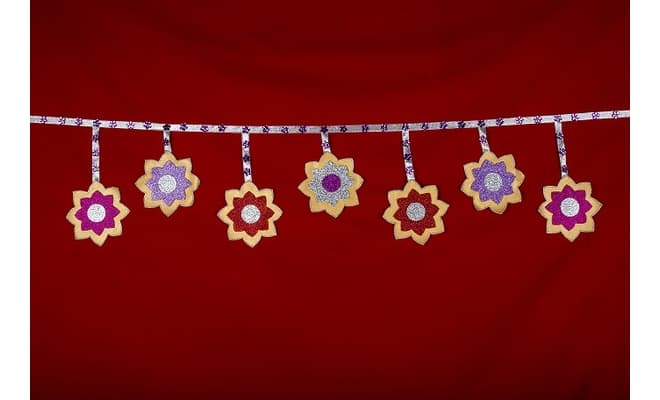 Make Dangler With Glass Colours:
How about adding some danglers to your diwali decorations at home? These vibrantly coloured danglers can be a good DIY idea for you to attempt at home. Made with Glass Colours and OHP sheets make your own shapes if you like with your own desired colour combinations.
For more detailed tutorial,
click here
, Make one and share with us this festive season.
Diwali Gift Ideas - Decorative Tray :
Thinking what to gift your family members this Diwali? Look no further, make this Tray primarily using Stencil and colour with glass colours to makes this tray look very festive. Learn a new technique, try stencilling technique with this project. It can be a good Diwali gift idea to handmake and gift it during this Diwali.
Do not waste time, click here to begin your
DIY decorative tray
for family.